Director Roberto Ramos Retires from UT Police after 38 Years
July 03, 2023
Maribel Salazar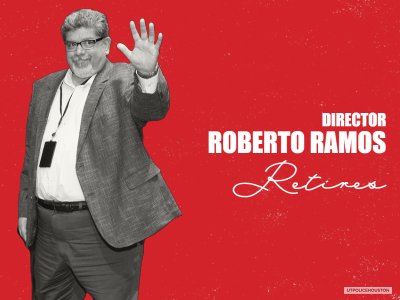 Health scares have a way of changing everything. For longtime employee Roberto Ramos, it was a cancer diagnosis that ultimately changed his perspective on the career he had enjoyed for nearly four decades. In June, he retired after 38 years of service to UT Police at Houston.
"I got a big scare health wise," recalled Ramos at his retirement party. "I decided it was time to spend time with my family while I can still walk around and do things."
In late 2022, he had been unexpectedly hospitalized and subsequently spent a month in the hospital. His doctors discovered a mass in his kidney. After surgery to remove one kidney, cancer treatment promptly began. His treatments and recovery kept him sidelined from his work through January. When he returned to UT Police, he worked remotely.
The new schedule allowed him to take daily walks and frequent breaks. He focused on his health and lost weight.
For years, he kidded about having a resignation letter ready in his desk. If reaching the 40-year service milestone was a goal, it wasn't an option anymore.
After months of discussion and consideration, he and his wife Carmen made a decision.
Ramos announced his retirement publicly during the division's annual Promotions and Awards Ceremony in mid-May. As the ceremony wrapped up, he was called onstage.
His last day would be in June, he said.
In his final days, the division organized a retirement celebration. The timing of the event couldn't have been more poignant or well-timed.
His fifth grandchild was born just moments into the retirement party. His wife and family – save for one daughter giving birth and another who was at her side – gathered to celebrate his career.
Ramos interviewed with UT Police in 1984 when his sister gave him a ride to campus. He started his career as a Public Safety Officer when he wasn't yet allowed to buy beer, he joked.
He married Carmen, his Milby High School prom date, in 1987 and had three daughters.
Over the years, as he and Carmen both built careers at MD Anderson, he got to meet all MD Anderson presidents.
He became a commissioned officer and rose to the rank of Lieutenant before turning in his badge to take on a civilian role with the department. In his last role as Director, he oversaw the public safety officer team, dispatch, training, community outreach, and supply, and occasionally other teams as needed.
The recruiting function was a constant in his career.
"I don't think there's anyone in this room that in one way, form, or fashion I didn't review a file or put a hand on as far as recruiting goes," he said at his retirement party.
Ramos reminded and motivated police recruits to focus on their training, career and education. He often formally and informally mentored staff and relished their achievements. In 2021, he was recognized for his contributions with the MD Anderson Distinguished Mentor Award.
Associate Vice President, Deputy Chief Security Officer Ray Gerwitz was Ramos's last supervisor and one of the many people who Ramos vetted when he applied for a position with UT Police.
"Rob has taught me more than I could ever teach him," Gerwitz said. "He's been a great coworker and more importantly a great friend."