Sabater Receives IAHSS Award for Saving Choking Patient
October 20, 2021
Carla Hulsey Pate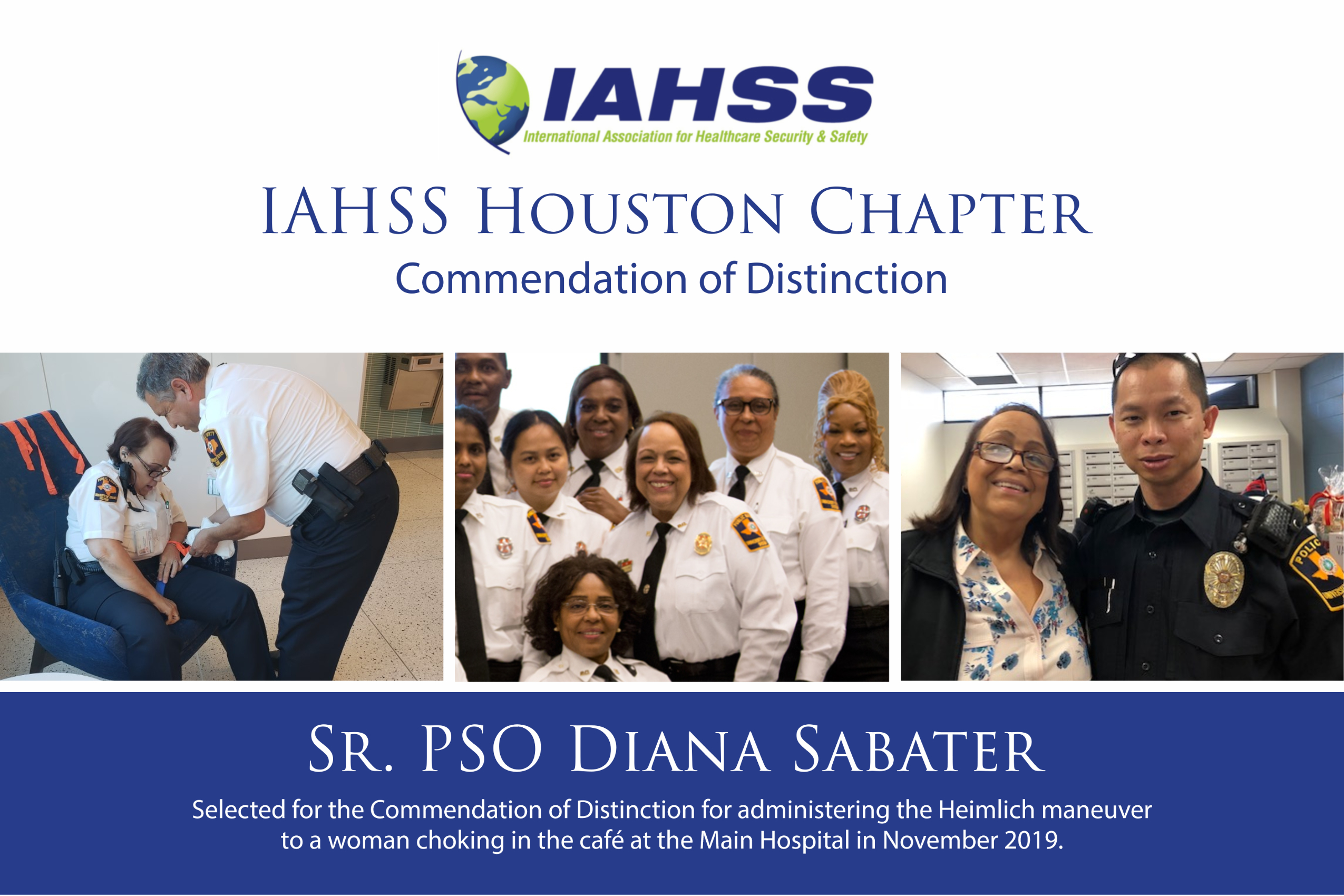 On Oct. 15, 2021, the International Association for Healthcare Security and Safety (IAHSS) Houston Chapter announced Diana Sabater as their selection for the Commendation of Distinction for her role in administering the Heimlich maneuver to a choking patient at an MD Anderson building.

In November 2019, Sabater took her care of community members to new heights.

Sabater had been completing a purchase at a café inside of the building when another patron approached her. The woman drew Sabater's attention toward a woman in the café who was having trouble breathing.

"When I approached the woman, who was a patient at the hospital, her eyes were red from a lack of oxygen and she was displaying other universal signs of choking, such as being unable to speak," explained Sabater.

Sabater later recalled that the café—packed with guests during peak breakfast hours—being a high stress environment at the time, complete with nervous onlookers and their tense gasps, but she remained calm and began performing the Heimlich maneuver, which dislodged the food from the patient's throat.

When the patient could breathe again, Sabater contacted the hospital's medical staff to examine the patient, a step that is standard practice for situations like this.

"I was concerned that her throat problem could have been related to her treatment for cancer so I thought she needed to see a medical professional," said Sabater. "Thinking back, there had to be others there who knew the Heimlich maneuver, but sometimes people freeze up in emergencies."

Sabater's supervisor, Public Safety Supervisor David Johnsrud, arrived to the scene minutes later.

"Diana has been here for many years and is full of institutional knowledge that she shares with everyone she works with," said Johnsrud. "I was able to speak with the woman she assisted and I can say that this woman is doing well and is extremely grateful for Diana's actions that day."

In a virtual event, the IAHSS Houston Chapter announced its recipients of Commendation for Valor, Commendation for Distinction, Commendation for Merit, and Program (Team) of the Year at their 4th annual Houston Officer Recognition Awards.

The University of Texas Police at Houston (UT Police) had nominated four team members to be considered for Commendation for Distinction and Commendation for Merit awards.