Hurricane season has begun. Are you ready?
June 06, 2019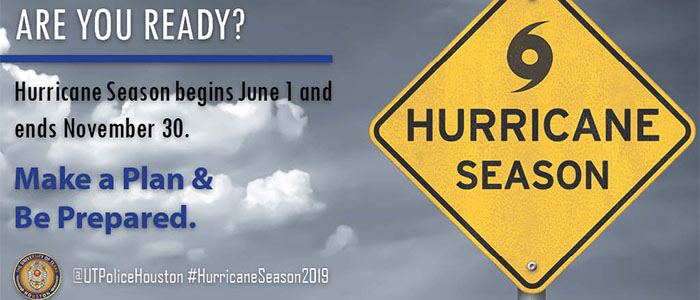 The 2019 hurricane season is here.
When Hurricane Harvey dumped more than 51 inches of rain on the Houston area in August 2017, the Texas Medical Center (TMC) rallied by proving that a sophisticated floodgate network and other improvements made since Tropical Storm Allison could protect the world's largest medical city. But the 2019 hurricane season, which extends through Nov. 30, brings new opportunities to safeguard both patients and employees in the event of another epic storm.
Preparedness is at the forefront of the UT Police at Houston mission to safeguard the community. Two High Water Evacuation Vehicles (HWEVs) have been procured – nicknamed Laverne and Shirley-- to aid in the event of a weather emergency. A special team knowledgeable in high water driving and evacuation practices has been compiled.
As part of that team's training, UT Police Sergeants Scott Barnwell and Jason Kingston recently completed the Water Rescue Instructor Course offered through the Lifesaving Rescue Service in Kennebunkport, Maine. They are now certified as both Surface Water Rescue Technicians and Swift Water Rescue Technician instructors.
In addition, our officers and staff have been refreshed on emergency procedures through drills and subsequent trainings to ensure readiness in the face of severe weather events. Emergency preparedness is key to ensure campus-wide mobility and access during a storm and UT Police has the capability to help manage the critical supply chain for medical waste, food, transportation and other institutional necessities.
For a complete list of resources to aid during severe weather, visit the Severe Weather Resources page on our website.