National Night Out Resumes In-Person after Two Years Virtually
October 31, 2023
Victoria Vazquez, Maribel Salazar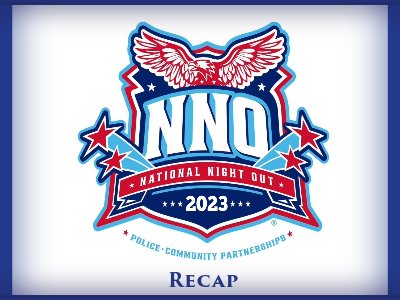 Flashing lights, piercing sirens, and smiles all around.
After a two-year hiatus to a virtual format and a week's delay due to weather, UT Police once again hosted a vibrant and engaging crowd to the division's 2023 National Night Out event on Thursday, October12. The event took place at University Housing both inside and outside the clubhouse area.
NNO brought together students, staff, and community members for an evening of safety awareness, entertainment, and community building. Police vehicles and a fire truck were a favorite for children and adults. Booths packed with information, giveaways, games, goodies, and safety presentations rounded out the activities.
Every year, communities across America gather to meet their neighbors, discuss issues impacting their neighborhood and enjoy an evening together. UT Police has hosted NNO for our resident community at UT Housing for many years, including two virtual events during the pandemic.
"It's such a joy to see so many families come out to enjoy the evening together and to get all these safety messages from our team and our partners," said Senior Community Relations Specialist Victoria Vazquez, who organized the event. "The children really make this a special event and make this event so memorable."
UT Police Vehicles
Officer Terri Johnson showcased a UT Police vehicle, allowing kids and adults to explore its interior and even play with the many buttons that triggered police sounds and sirens. Several kids had a hard time leaving the vehicle with all the fun that was had moving in and around it.
Another attraction was UT Police's high-water evacuation vehicle manned by Lt. Kevin Gray, Sgt. Scott Barnwell, and Asset Technician Rolando Torres. Children were able to climb up and gain a unique perspective. UT Police showcased the water suit, armor, and heavy gear that personnel wear when assisting in high-water rescues. Barnwell also had the division's armored vehicle on showcase. The vehicle is designed to withstand heavy attacks with bullet-proof glass, bullet-proof tires, and extra heavy doors.
Activities for Children
The event also featured an animated Prize Drop game, giving attendees the opportunity to win UT Police branded safety items, such as bicycle lights, safety whistles, car evacuation tools, light up arm bands, and cooling towels.
For the young attendees, a coloring station was set up and overseen by Public Safety Officers. Children were provided with coloring materials related to 911 safety, including Cell Phone Sally coloring books, comic books, police station coloring books, and neon National Night Out bracelets.
Careers and Outreach
For those interested in a career in law enforcement, Officers Victoria Gonzales and Adrianne Arceneaux were available to answer questions and provide information about working for UT Police.
[can we add a few other lines about recruitment, maybe mention the videos?]
Officer Manny Leston and Senior Community Relations Specialist Sherneka Cagle offered information on safety classes, UT Police's monthly newsletter, KnightLine, social media channels, and child identification kits.
Our Partners in Safety
Refreshments and snacks provided by University Housing, ensuring everyone stayed energized for a full evening of many activities and pertinent information from not only UT Police and UTHealth Houston, but also UT Physicians and MD Anderson.
Safety presentations led by Officer Manuel Leston were held in the clubhouse. An highlight of the evening was the chance to meet and greet McGruff the Crime Dog, who even participated in a video call as a surprise for an enthusiastic family member who could not attend in person.
MD Anderson's outreach team also set up a table and handled out swag bags and valuable health information. This added to the variety of experiences attendees could enjoy throughout the event.
UTHealth Houston Environmental Health and Sciences (EHS) was also on hand with fire safety demonstrations and information. Attendees had the chance to practice using a fire extinguisher to digitally put out a fire before it took over the screen. This was the first time UTHealth Houston EHS was able to utilize the new equipment with the public and judging by the smiles and laughter from the kids, the new equipment was a hit.
Inside the clubhouse for those ready to cool off from the heat, UT Physicians Wellness Services provided free BMI and body fat percentage checks, offering a valuable health assessment to those interested. They also distributed clear, hand-held massagers, for an added touch of relaxation to the event.
HFD's First Appearance
Adding to the excitement of the evening, the Houston Fire Department brought a fire truck to the event.
"Since we delayed our initial NNO night due to weather, it meant that HFD had no other conflicts to join us at UT Housing," Vazquez said. "The fire truck was yet another perfect backdrop for photos and allowing kids and adults to get an up-close look at firefighting equipment and meet the firefighters."
Hanging Out in the Hill Country
UT Police's detachment unit in Bastrop, Texas, also held its own event for their campus community, aptly named "Lunch Out". The gathering brought together campus staff for an afternoon of camaraderie, hot dogs, and an array of goodies. "Lunch Out" at the Bastrop campus demonstrated that the spirit of National Night Out extends beyond the main event.
These combined efforts of the 2023 National Night Out events were a tremendous success, uniting the community and promoting safety awareness in an engaging and interactive manner. UT Police's commitment to community outreach and safety education provided a positive impact on all who attended.