Spotlight on UT Police at Houston: Telecommunicator of the Year Kira Darby
September 06, 2023
Sherneka Cagle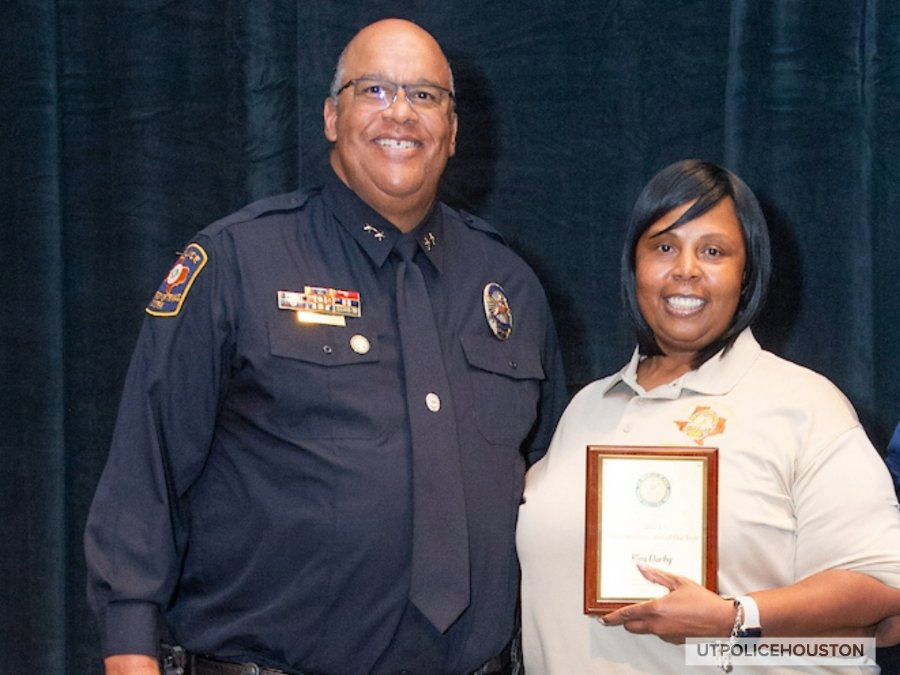 UT Police consists of police officers, public safety officers, telecommunicators and many other civilian employees. All these employees contribute to the success of our division. To provide our community with more information about those who work hard daily to ensure safety in our community we bring the Spotlight on UT Police at Houston series. This interview series will provide information about the people that make up UT Police. Our inaugural interview was conducted with the 2023 Telecommunicator of the Year, Kira Darby.
Kira Darby is described as a model for leadership in UT Police's Risk Operations Center (ROC). According to her supervisor, Connie Singleton, "Anyone working with Kira has complete confidence in her abilities to ensure a successful shift because she is proactive in her thoughts and actions. Ms. Darby has received many Awesome Job Awards from fellow MD Anderson employees for her demonstration of the MD Anderson core values." Her nomination concluded with describing her outstanding customer service and willingness to go above and beyond.
Can you tell me about your career in emergency services and how you came to join UT Police?
Before starting with UT Police, I worked in other law enforcement/security careers. I worked for five years with METRO Police Department as a security officer and was later promoted to a police dispatcher. From there I spent 15 years working as a correctional officer for the Texas Department of Criminal Justice. I began my career with UT Police as a telecommunicator in 2009. When I saw the Lead Police Telecommunicator position posted, I applied. I was promoted to Lead Police Telecommunicator in 2018.
What were your thoughts when you realized you were selected as the Telecommunicator of the Year?
Leading up the big annual event, I was told to make sure I was present because I would be receiving an award, but I didn't know which award it was that I was being honored with. When my name was called and shown on the screen, I was amazed to see that I was selected as Telecommunicator of the Year. I was overjoyed to receive such acknowledgement for the work that I put in daily.
What has been the most challenging or rewarding part of your job?
The most challenging part of my job is when the outcome of a call for service is different from the results you were hoping for. My goal every day is to help someone in need. The harsh reality is that not all calls have a happy ending. However, I keep my spirits up and do my best to be the most helpful I can to every single person who calls.
What makes working at UT Police enjoyable?
The camaraderie with my colleagues is the most enjoyable part of my job. When you spend most of your time with a group of people you can laugh with, cry with, and uplift each other. It is a huge perk. Our strong bond makes the job tasks much more manageable. I believe that also helps our team be successful.