The University of Texas Police at Houston Annual Children's Gift Drive Benefits Pediatric Patients
December 05, 2022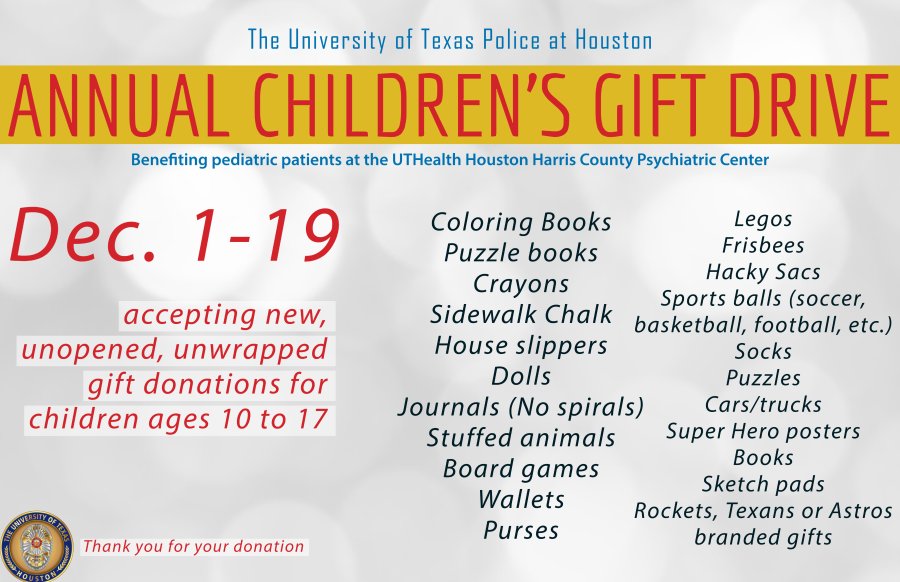 For more than 20 years, UT Police has organized the annual Children's Gift Drive benefiting pediatric patients at various hospitals and clinics associated with UTHealth Houston. The gift drive kicked off this year on December 1 and will last through to December 19. This season, gifts will benefit the pediatric patients of UTHealth Houston Harris County Psychiatric Center.
Gift donations should be new, unopened, and unwrapped and geared toward children ages 10-17.
Items not accepted: batteries, antennas, pencil sharpeners, any sharp item.
Donation boxes may be found in the lobby at the following UTHealth Houston locations:
Cizik

School of

Nursing

(

SON)

Institute of Molecular Medicine

(IMM)

McGovern Medical School

(MED)

– LRC Lobby

Recreation Center

School of Public Health

(SPH)

University Center Tower

(UCT)

Bimolecular Behavioral Sciences (BBS)
Donation boxes found on specific floors:
UT Professional Building

(UTPB) -

11th Floor

Operations Center Building (OCB) - Rio Grande Room

School of Dentistry

(SOD)

- SOD6240

University Center Tower (UCT) -

TBD
If you are unable to find a donation box, all workforce members may bring donations to UT Police headquarters at 7777 Knight Rd, Houston, Texas, 77024. This gift drive is not open to the public, only MD Anderson and UTHealth Houston workforce members.
UT Police is thankful for the support from the community, helping us to successfully provide gifts for the pediatric patients at UTHealth Houston Harris County Psychiatric Center. Holiday gifts communicate that kids and families are cared for and an important part of our community.
Suggested Gift Items: coloring books, puzzle books, crayons, sidewalk chalk, house slippers, dolls, journals (no spirals), stuffed animals, board games, wallets, purses, Legos, frisbees, hacky sacks, sports balls, socks, puzzles, cars/trucks, superhero posters, books, Texans/Rockets/Astros themed gifts, sketch pads
For questions about the gift drive, please contact UT Police Community Outreach at UTPHOutreach@mdanderson.org or (713) 563-7794.