Public Safety Officers Win IAHSS Team of the Year
November 20, 2019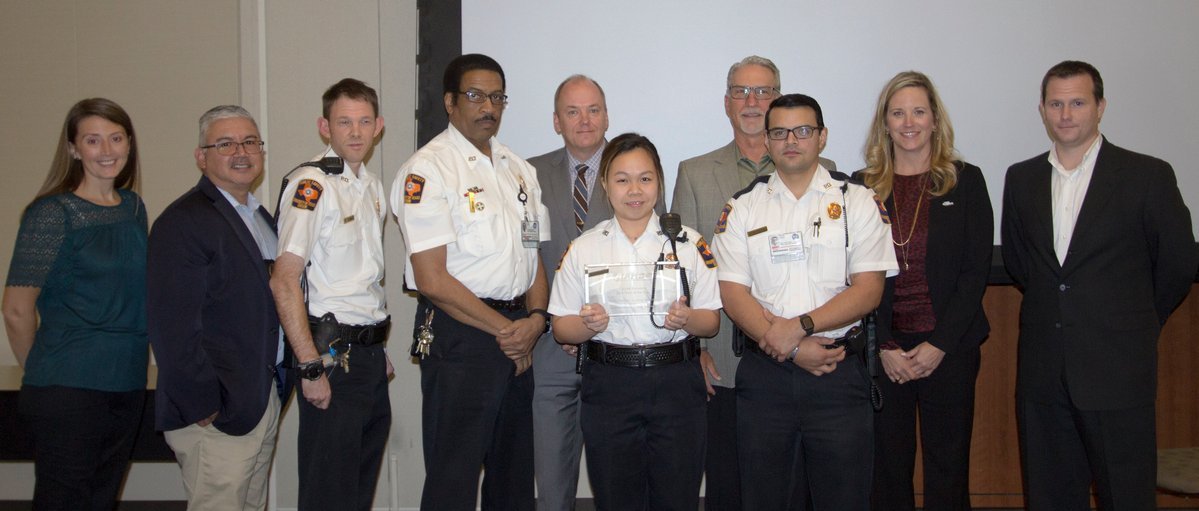 The University of Texas Police at Houston's Public Safety Officers (PSO) have been named the International Association for Healthcare Security and Safety (IAHSS) Local Chapter Team of the Year. The award recognizes the achievements of the department's PSO program over the past year.
PSOs play an important role in patient safety by upholding the department's goal of service excellence and commitment to diversity. PSOs serve as the "eyes and ears" of the institution and are the first line of defense when it comes to the safety and security of our campus communities. The award recognizes the impact PSOs have had in assisting patients and their visitors navigate the hospital, reuniting lost property with their owners and impacting institutional initiatives.
Key highlights of the nomination included MD Anderson's Heart of MD Anderson recognition of PSO Mary Gonzalez.
"As a reflection of [the team's] commitment, in April 2019, PSO Mary Gonzalez was selected as the Heart of MD Anderson – her accomplishment is amplified by being selected out of over 21,000 other employees. 'I trust Mary with her dedication to make MD Anderson a safe place for all,' says Bethel Guk-Ong, the clinical nurse leader who nominated her for the award."
The nomination also recognized the contributions of SPSO Armando Viscarri to the MD Anderson Diversity Council, in which he has represented the department for several years.
"'We are proud to have guys like Armando out there doing what he loves and representing UT Police in the process,' said UT Police Assistant Chief Paul Cross. 'Not only does he make our department a better place, he is making the institution and the world a better place as well.'"
The award was announced at the IAHSS Annual Security Summit on Friday, Nov. 1. Several PSOs were present to accept the team plaque.