Generosity Continues for UT Police Toy Drive Despite Pandemic
January 08, 2021
Carla Hulsey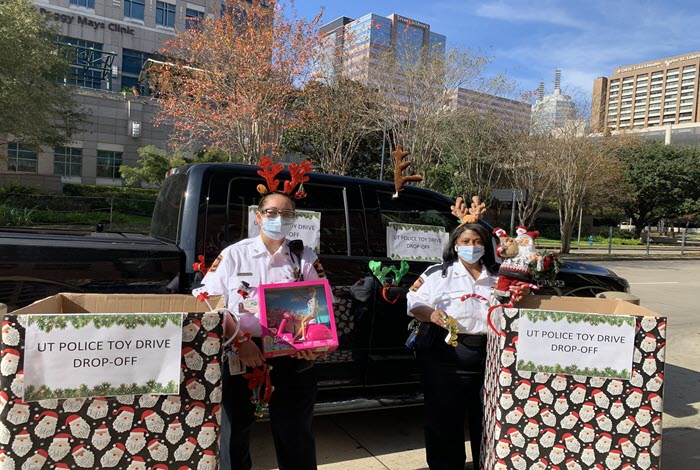 Public Safety Officer Melissa Perez and Public Safety Supervisor Catrina Smith participate in the annual children's gift drive, collecting donations at several UTHealth building locations.

---
For many years, the annual Children's Gift Drive hosted by The University of Texas Police at Houston has counted on the generosity of the UTHealth and MD Anderson community to bring cheer to children. This year, the opportunity to give was in doubt due to COVID-19 restrictions.

Pivoting to a new way to safely collect gifts, UT Police was able to continue the annual event even through the pandemic. The modified plan ensured the safety of both UT Police employees as well as those who donated gifts.

Public Safety Supervisor Catrina Smith, who spearheaded the collection of gifts, said that 2020 may have been a year to scale down the popular event, but certainly not a time to cancel it.

"I feel like this is gift drive is very important to our community, even before the coronavirus hit," Smith said. "But especially now that we're in the midst of a pandemic, so many parents are out of work and may not have the resources to provide gifts for their children this year."

Pre-COVID gift collection would have involved large boxes placed in over a dozen locations across campus. This holiday season, in order to safely collect the donations, UT Police announced dates and times when a departmental vehicle would be available outside UTHealth buildings. Smith and Public Safety Officer Melissa Perez, donning institutionally required PPE, collected the gifts in drop off drives of several buildings.

Pre-COVID, delivery would have involved UT Police staff members visiting The Harris County Psychiatric Center to personally deliver gifts to each patient, along with stops at a few other locations. Santa too, on most occasions, made an appearance. This year, at the conclusion of the drive donations were sanitized before being delivered to children at HCPC. This December's scaled-down delivery involved an outdoors handover of gifts involving just a two UT Police staff members and a few HCPC staff members.

HCPC Lead Recreation Therapist Michelle Kenney has worked with Smith to coordinate the gift deliveries over the years and shares her appreciation for the generosity of community members.

"At HCPC, we provide mental health care for many child and adolescent patients in need. The various toys, games, balls, stuffed animals helped to brighten the holiday season for these youth," said Kenney. "Although we missed the in-person visit from UT Police and Santa, the generosity of the community brought smiles to the faces of many of our patients and staff."

Kenney says they are thankful for the partnerships that make this event possible.