OSPA Announces UT Police Security Team as Award Finalist
August 10, 2021
Carla Hulsey Pate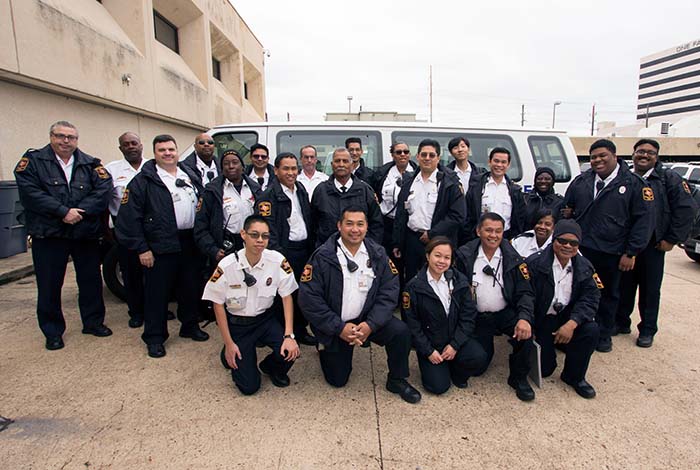 Photo from 2019: Members of The University of Texas Police at Houston Public Safety Officer Team
---
The Outstanding Security Performance Awards (OSPAs) has announced that the University of Texas Police at Houston (UT Police) Public Safety Officer team has been named a finalist for the 2021 OSPA Outstanding Security Team Award.
Finalists were selected for their ability in creating and implementing an effective security strategy and driving security performance, highlighting security impacts on the wider organization, and demonstrating improvements made to people or processes.
The UT Police Security Operations team was nominated for its role in patient safety and service excellence. The nomination submitted in June detailed the ways in which PSOs serve as the "eyes and ears" of the institution.
With PSOs being the first line of defense when it comes to the safety and security of various campus communities, the nomination thoughtfully described the impact PSOs have had in assisting patients and their visitors navigate the hospital, reuniting lost property with their owners and impacting institutional initiatives.
Other areas highlighted include how PSOs are trained and certified in immediate medical assistance response involving AEDs, CPR and Stop the Bleed™.
In promoting security programs and services to the community, PSOs practice quality assurance and process improvement through drills and a robust performance and value measurement program. This program utilizes electronic data entry and visualization tools to validate performance and adapt services to the ever-evolving needs of a health care security team.
"We are delighted that our security team was named a finalist this year during such challenging times," said Public Safety Manager Jason Lipe. "We have some outstanding individuals, teams, and initiatives and we're glad to be celebrated as finalists for an OSPA."
The full announcement of all award finalists is available on the OSPA website. The OSPA will name the award winner on Thursday, September 23, 2021, at an interactive virtual event.