Spotlight on UT Police at Houston: Leadership Team Member of the Year Sylvia Arrizola
November 01, 2023
Sherneka Cagle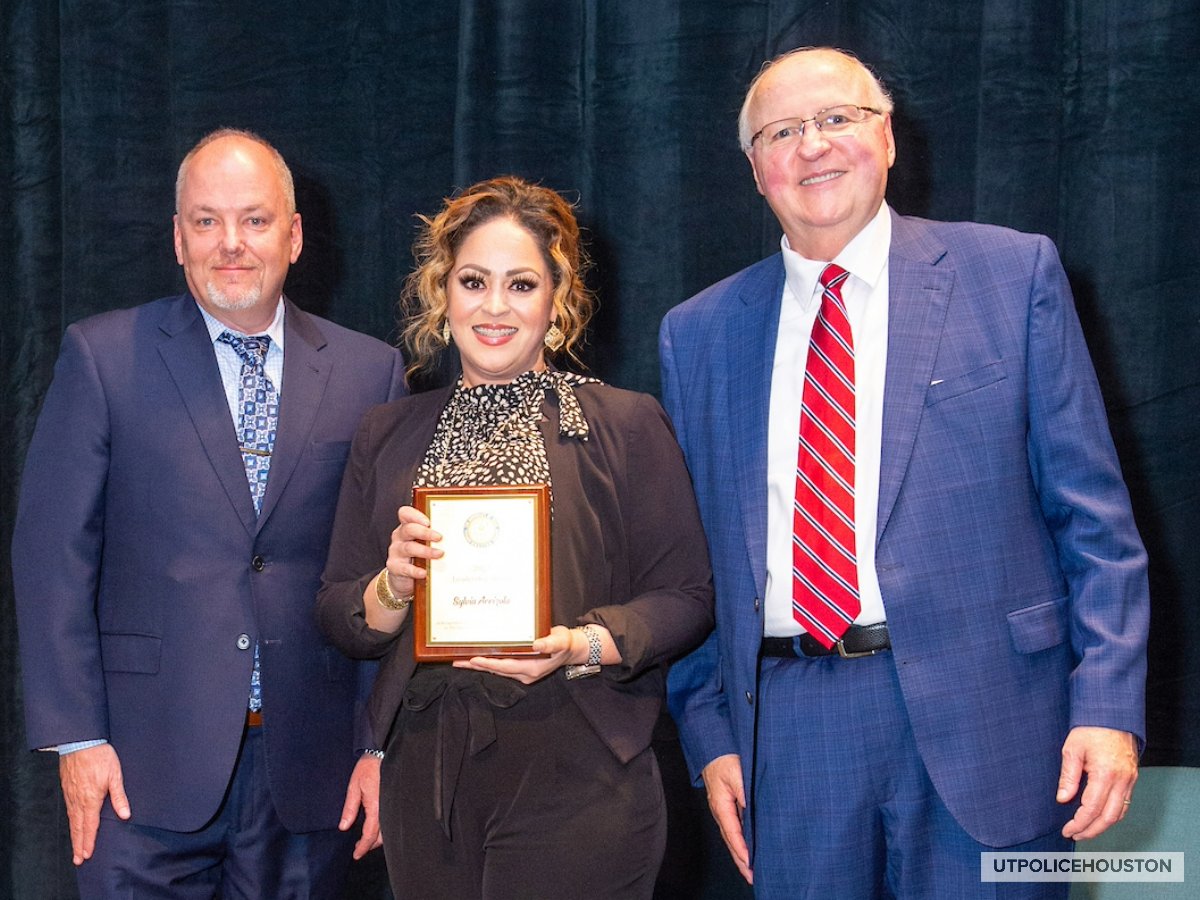 UT Police consists of police officers, public safety officers, telecommunicators and many other civilian employees. All these employees contribute to the success of our division. To provide our community with more information about those who work hard daily to ensure safety in our community, we bring the Spotlight on UT Police at Houston series. This interview series will provide information about the people that make up UT Police. This interview was conducted with the 2023 Leadership Team Member of the Year, Sylvia Arrizola.
Sylvia Arrizola is the Director of Police Administration and Support Services and received the inaugural UT Police Leadership Award in May 2023. Her predecessor Rob Ramos, who retired earlier this year, described Sylvia: "She knows her staff, is self-aware and makes sure the division stays within budget to accomplish our goals and mission."
Can you tell us about your career with UT Police?
I've served in several roles within UT Police during my eight-year tenure. In all roles, I have applied my financial expertise in the management of our operating funds, developing budgeting strategies, financial performance metrics, and enhanced reporting capabilities. Throughout the years I've taken advantage of the opportunities to enhance my leadership skills. I have completed the LEADing Teams cohort, a coaching program, and a variety of other training programs offered by MD Anderson's Leadership Institute.
I've also looked for opportunities to challenge myself by working on a variety of projects within our division, especially in contributing to the division's strategic initiatives. One key accomplishment was the development of our Contract Management dashboard, which allowed us to better track, monitor, and report on our contractual obligations while fully operationalizing our operating funds. Throughout the years, and regardless of my role as an individual contributor or as a leader, my goal has always been simple – to work as hard as I can to build credibility, develop partnerships, and learn as much as I can from others to be successful in my role.
You were recently promoted to your current position. How has your new role been different than being Department Administrator?
I have been handling both roles for about two months. I will be in a better position to address this question once our new Department Administrator joins the team, hopefully by mid-November! Right now, my priorities have been to get to know my new team members. Building those relationships, setting expectations, and aligning on a shared vision for success is important to me. I've also been focusing on developing new relationships with external partners that I believe will help me fulfill the objectives of my role.
At this year's Promotion and Awards ceremony, you were recognized for completing a degree in higher education. What was that degree and how do you feel that has enhanced your performance at UT Police?
I consider myself to be a life-long learner and obtaining my master's degree in business administration with a concentration in human resource management was a personal developmental goal that I'm very proud to have achieved. I have been able to apply a variety of business strategy concepts that have allowed me to be able to add value to the strategic planning process, from developing strategies to executing on those strategies while leveraging available resources and increasing our value proposition.
You recently received the inaugural Leadership Team Member of the Year award. What were your thoughts when you learned you were receiving this award?
Our division consists of the most talented, professional, and intelligent leaders I have ever worked with. I am not afraid to roll up my sleeves and put in the work needed to get the job done. To have been recognized with the Leadership Team Member of the Year award was extremely humbling, but also very satisfying to know that my hard work was noticed and appreciated.
What advice would you share with a person looking for growth opportunities in their current position?
Our workforce is filled with great individuals looking to develop and increase the value of the work they do. That desire to grow in and of itself is the key. You must WANT to grow! Growth requires hard work, so never back down from a challenge. Work hard every day. Never say, "that's not my job". Every time you say that, you are shorting yourself from a great learning opportunity.
What do you do in your free time?
I devote my free time to my family which includes three daughters and one granddaughter. My girls are my world, and our weekends are spent at volleyball games and tournaments. Most recently, my middle daughter decided to join her high school wrestling team, which adds an exciting twist to our journey so we will see where this new interest takes us! On the rare occasion my kids' activities don't have our weekend already planned, I enjoy spending time with my husband exploring new restaurants. I am currently on a quest to find the best Nashville hot chicken sandwich in town! I am open to all recommendations!