Blue Santa Fundraiser Helps Families In Need During the Holiday Season
January 08, 2021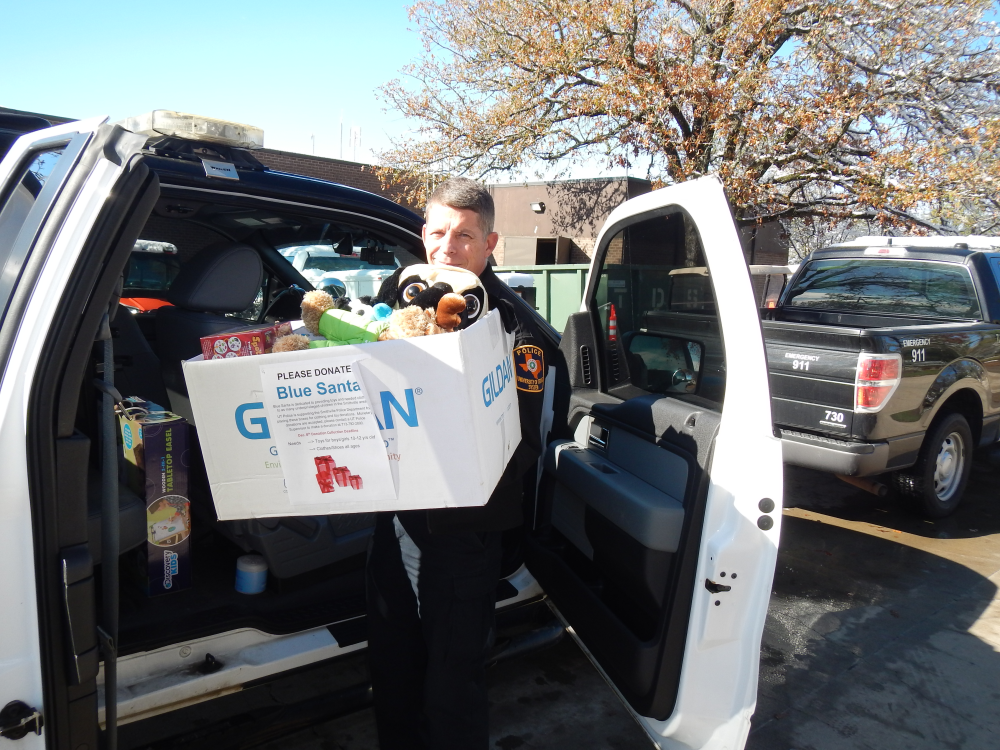 UT Police partners with local law enforcement agencies in Smithville, Texas for the annual Blue Santa fundraiser and toy drive. Pictured above, a UT Police officer collects toy donations from the 2019 Blue Santa event.
---
Helping the community is central to how many people celebrate the holidays. In central Texas, UT Police at Houston staff continued the tradition of building community by raising funds for families in need.

"Our efforts are a way for a way that we can support our local towns," said Wayne Smith, Jr., UT Police captain over the detachment unit serving the Bastrop and Smithville campuses. "We are happy to have raised $2,940 for children and families in need."

After years of supporting the Smithville Police Association, the detachment unit expanded it's efforts to also support the community in Bastrop. For that campus, which is in a more rural location than Smithville, the unit aligned it's donations with the Bastrop Association Sheriffs Employees. Each of these organizations manages the donations and identifies needy families to benefit from the funds raised.

Where in prior years the team collected both toys and money, this year the effort focused on collecting funds. The Smithville campus's generosity yielded $1,140 for the Smithville Police Association's Blue Santa program, while $1,800 was netted for the Bastrop Association Sheriffs Employees' Brown Santa program.

"I'm thankful to the kindness of our campus employees who generously contribute to these programs," Smith said. "Even in these uncertain times, these funds translate into a smile on a child's face, and not much is more precious than that."