Matt Slinkard Joins UT Police as New Assistant Chief
October 01, 2023
Victoria Vazquez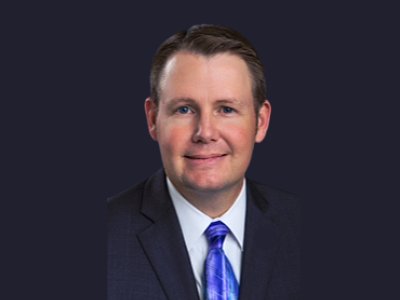 In September, Matt Slinkard joined UT Police as the Assistant Chief for the Converged Threat/Risk Protections & Investigations units. Slinkard joins the division with nearly three decades of law enforcement experience with the Houston Police Department.
Q: Can you tell us about your career in law enforcement and what has been the most fulfilling in your career?
I served with the Houston Police Department for almost 30 years where I worked with amazing public safety professionals in all aspects of policing. In December 2001 I was initially promoted to the rank of Sergeant, then continued to promote as the years progressed. In 2021 I achieved the rank of Executive Chief, second in command.
The greatest part of my law enforcement career has been to see how lives are changed for the better when we serve with care and compassion. That premise includes lives changed among the citizens we serve as well as lives changed internally as we help each other reach our personal and professional goals.
Q: What drew you to pursue a career in law enforcement?
I was motivated to pursue a career in law enforcement because it is a profession grounded on a solid foundation of servant leadership. Serving our communities and building relationships that help foster a safe environment is a high calling worthy of commitment, sacrifice, and duty.
Q: Could you share some highlights from your career progression within HPD?
I learned valuable lessons at each stage and rank of my career with the Houston Police Department. From roles in patrol operations, support operations, administration, and investigations, each position was an opportunity to grow and learn every facet of public safety operations.
Q: You've been involved in various associations and training programs. Could you tell us about some of these experiences?
I have always felt strongly that as public safety professionals we should embrace a mindset of continual personal and professional growth coupled with perpetual education and training. I was blessed and fortunate over the last 30 years to attend and graduate from several programs that enriched my law enforcement leadership capabilities and that have benefited my organization and fellow employees. I attended and graduated from the FBI National Academy, the Senior Management Institute for Police (SMIP), the Police Executive Leadership Institute (PELI), and the National Executive Institute (NEI). These programs were especially valuable because they allowed me to establish important partnerships with public safety professionals throughout our nation and abroad.
Q: What are some of your accomplishments in terms of managing police operations during significant events?
I have been afforded the opportunity during my career to lead the public safety response to many operations covering significant events. I have planned and managed the public safety response to multiple MLB World Series, championship parades, Superbowl LI, countless catastrophic weather events to include Hurricane Harvey, large public assemblies, civil unrest, multiple Houston marathons, and numerous other significant events including detailed crime scenes and special threat situations.
It is most important to note my leadership role in each of these situations was only effective and successful because of the amazing people and law enforcement professionals I had the pleasure to work with. I have been blessed to be surrounded by outstanding teammates that are exceptional at their jobs. It is truly their success that should be celebrated.
Q: What excites you about joining UT Police, and what are your priorities moving forward?
What excited me most about joining UT Police was the opportunity to continue my law enforcement journey of service in an amazing organization full of talented and caring professionals. I was amazed by the warm welcome I received and am equally impressed by the culture of excellence here. It is exciting to be a part of it all.
I am also happy that I get to continue this journey in the city of Houston where my heart and my family reside. UT Police is a world-class organization serving world-class institutions of health, wellness, and education with reputations known throughout the globe. It is very easy to get excited about being part of this team, this mission, and this journey.
My priorities over the next several weeks and months include continuing to meet all my colleagues and establishing a good foundation of trust and partnership with one another.
I will be looking for opportunities to make a positive impact on our prevention, preparedness and protection goals. I hope to learn a great deal from the subject matter experts at UT Police and at the same time I hope that my experience and skillsets will add value and substance to an already amazing team.
Q: Could you share a bit about your personal life and interests outside of law enforcement?
Of course, and thanks for asking. I have been married for 27 years and I am blessed to say that my wife has been my best friend since we met when I was 14 years old. Together we have two adult sons. One of my sons is currently attending law school and the other is in his second year of college. My priorities in life are simple and straightforward. They are faith, family, and work - in that order. I have often found that if we are doing the very best we can at the "work" part, then we usually have more quality time available with the other two priorities.
I have always loved the outdoors and my favorite activities are hunting, fishing, and golfing. I am much better at the first two, but I will keep swinging and trying. Of course, spending time with my family always takes priority. I have one sibling, my older brother, who has worked for the Houston Police Department for 32 years. We are lucky to be able to spend a lot of time together.
Q: Thank you for your time. Do you have any final comments for our community?
I am honored to be here with you, and I look forward to working with everyone at UT Police, MD Anderson and UTHealth Houston. I am ready to be of assistance.