Drew Dasher Receives Honors and Recognition
October 01, 2023
Victoria Vazquez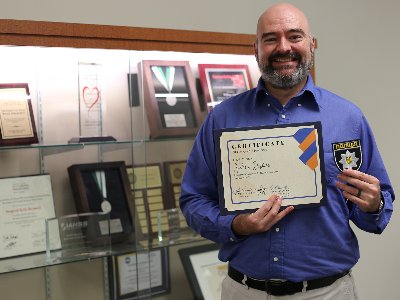 Looking down at his hands, Senior Threat and Risk Analyst Drew Dasher, Ph.D., could hardly contain his gratitude as he examined the patch that was just presented to him from a Ukrainian officer- directly from the right arm of the uniform he wore. This gesture of appreciation came after a productive discussion focused on Insider Threat issues and strategies for mitigating challenges related to adversaries in the ongoing conflict with Russia.
Dasher had just gained recognition as a distinguished speaker at the 2023 International Association of Crime Analysts (IACA) Training Conference, held in Grapevine, Texas, from August 28 to September 1, 2023. His presentation, titled "The Threat Management Analyst," drew an audience of over 250 analysts from across the globe.
During his participation in the conference, Dasher received accolades for his outstanding contributions to the field of Law Enforcement Analysis. He was recognized as one of the premier Law Enforcement Analysts in the State of Texas with a joint nomination for Texas Analyst of the Year by IACA and the Texas Law Enforcement Analyst Network (TXLEAN).
Currently, Dasher serves as the Chairman of the TXLEAN Training Committee, where he has collaborated with Sam Houston State University to develop comprehensive training courses and curriculum tailored for crime analysts throughout the state of Texas. Additionally, the courses will be offered online and in-person for analysts across the United States, further strengthening their expertise in the field.
In another remarkable achievement, Dasher was recently informed that an article he co-authored, titled "Navigating the Blended Sworn and Non-Sworn Security Operation," in collaboration with Analyst Olivia Manzano and Executive Assistant Claudia Garcia, has been accepted for publication by the International Association for Healthcare Security & Safety (IAHSS) and is scheduled for release in early 2024.