Ray Gerwitz Accepts IAHSS Foundation's Russell L. Colling Medal for Literary Achievement at National Security and Safety Conference
May 22, 2019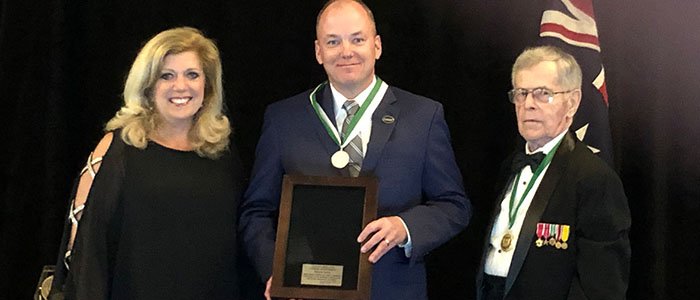 This week, UT Police at Houston's Chief of Police and Chief Security Officer William Adcox and Executive Director and Deputy Chief Security Officer Ray Gerwitz presented to The International Association for Healthcare Security and Safety (IAHSS) annual conference on how strategic planning can transform a department and provide value to organizations at negligible cost. Gerwitz also accepted the Russell L. Colling Medal for Literary Achievement, joining Adcox as the second member of the department to be recognized by the international organization.
In the general session, Adcox and Gerwitz discussed the evolution of our department's strategy to emphasize our shared purpose with visual and engagement-focused materials. Attendees experienced how using an operational excellence framework promotes continuous improvement within a department, and also how to evolve strategic monitoring tools to increase engagement and minimize costs.
The IAHSS annual conference is the largest gathering of health care security and safety leaders.
The announcement of Gerwitz's selection as the recipient of the Russell L. Colling Medal for Literary Achievement was announced in March. The award honors an individual who, through his or her literary abilities, has made a significant contribution to the health care security, safety, and/or risk management professions.
Gerwitz's work on strategic planning, team-building, and operational excellence initiatives has been featured in a number of industry publications. His most recent article in Security Info Watch, Emerging Threats in Healthcare and the Adaptation of Protection Models, describes the agile, adaptive methods developed at UT Police at Houston to identify and responds to threats. The selection committee also took note of his contribution to the Journal of Healthcare Protection Management, Modern strategy for operational excellence: building agile and adaptive organizations, where he encourages security agencies to adapt their response protocols to an ever-changing threat landscape.
Gerwitz was designated as a Certified Healthcare Protection Administrator (CHPA) in October 2018. His other notable accomplishments include 2018 Outstanding Security Performance Award - Best In-House Security Director, 2017 MD Anderson Best Boss Award and 2017 Julie and Ben Rogers Award for Excellence in the area of Administration Finalist.
This marks the second year that an employee of UT Police at Houston has been named the recipient of award. Chief Adcox was selected for the award in 2018.