Simulator Offers UT Police Practice in High Stress Response
July 15, 2019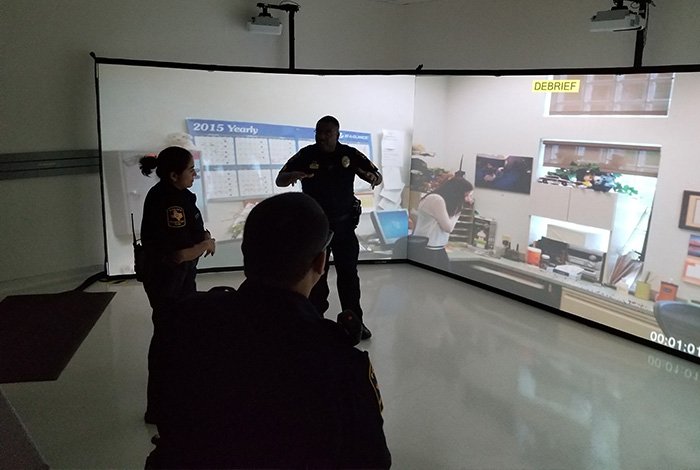 The University of Texas Police at Houston is helping its officers hone the skill of complex decision-making through the use of a state-of-the art simulator housed in the department's own Advanced Threat and Violence Prevention Center.
During training, officers enter an interactive scenario in which they communicate with a life-size recording on a three-screen display.
The purpose of the exercise, according to UT Police Training Sergeant Isaac Graham, is to promote officer safety, improve communication skills between officers and civilians, and to practice the use of verbal de-escalation techniques. Different outcomes are possible based upon the response and actions of the officers.
"Throughout the scenario we can stop the recording to discuss what the officer could have done better," said Graham, who led the training for a class of six rookie officers in June. "In doing so, I always remind them that there is no play-back button in real life."
The simulator also has a camera-in-camera feature that allows the officers to see themselves as they respond to the situation. This feature is instrumental in teaching them about their own body language and how to stay in a position that allows them to communicate with others in the room. A loss of communication between fellow officers could be a detriment to the outcome of the response.
During a recent training, officers responded to an office setting wherein two co-workers were reportedly arguing. The situation later morphed into a life or death situation.
The new officers, who were instructed to remain calm and call upon all the training they'd previously received, used the moment to experience how their thought process might be affected during a moment of high stress.
The officers were first put to the test individually and then with a partner.
"Because there is so much going on in those moments, this type of training is crucial," said Graham. "There are a lot of questions you are asking yourself all at once: Are all threats neutralized? Are all entrances secure? Is there anyone who needs first aid?"
Simulation exercises are also a means of training officers on how to deal with individuals with mental illness – an issue championed by UT Police Chief William Adcox. All officers at UT Police Houston receive mental health training to help them better understand and recognize indicators of mental illness.