Captain Doran Preacher Retires After 33 Years
November 01, 2023
Sherneka Cagle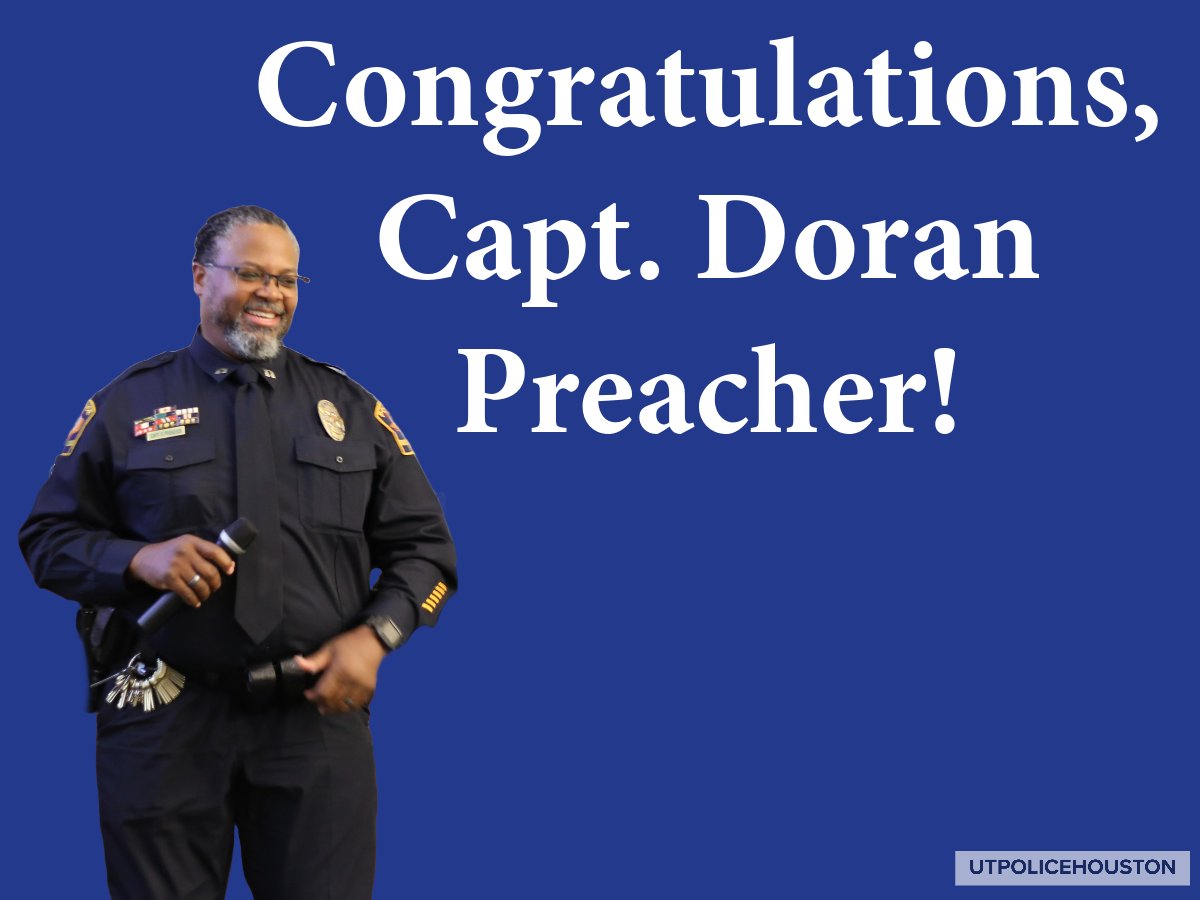 In September, UT Police Captain Doran Preacher announced he intended to retire from UT Police at Houston after a 33-year career. His last day with the division was on Tuesday, October 31.
UT Police staff celebrated Preacher's retirement prior to his departure. Those who stood to speak revered him as a great listener, a wonderful leader, and someone who always has the right words to say.
Preacher began his career with UT Police in 1990 as a Police Guard. He attended the police academy as a police cadet and became a police officer in 1992. In 1998, Preacher was promoted to police sergeant and to lieutenant in 2009. During his time as sergeant, he increased the bicycle patrol program's presence on campus, worked on the department's implementation of the Tuition Assistance Program, and established the Early Intervention Program for interceding in officer performance issues.
Just one year later in 2010, Preacher was promoted captain. During this year, he worked on the Pickens Academic Tower staffing proposal and served as an instructor for the safety classes UT Police provided to the community.
As captain, Preacher earned a bachelor's degree in psychology. In 2012, he received the MD Anderson Best Boss Award and in 2013, Preacher received the Office of the Director of Police's (ODOP) Award of Excellence. In 2021, he received the ODOP Distinguished Command Award and then the UT Police at Houston's Distinguished Command Award in 2023 for his dedication to providing exceptional safety services and leadership.
Before Preacher's retirement, we sat down with him to ask him a few questions about his experience working with UT Police. He shared one of the most significant calls of his career with us, words of wisdom for those in law enforcement or any career, and what he is looking forward to in retirement.
What has been the most impactful (or memorable) case you have worked on during your time with UT Police?
One of the first significant calls I responded to was when I was still in field training. It has stuck with me for my entire career. I was training with Officer Terry Shaw when we were dispatched to a call regarding a suicidal subject with a gun at the University of Houston School of Pharmacy parking lot, which was directly across the street from the old UTHealth Mental Science Institute building.
As Officer Shaw and I responded, we were advised over the radio by dispatch that the individual had shot himself in the head. I was personally expecting the worst when we arrived, but to our surprise the suicidal subject was walking around and talking after having shot himself in the head near his right temple.
He wasn't even bleeding that much considering. Officer Shaw immediately went into medic mode. He had the individual sit down, gave him something to apply pressure to his wound, and we waited for EMS to respond. After securing the weapon and ensuring no one else was injured, I was in awe of the resilience of the human body. Prior to this I assumed anyone shot in the head could not survive, but after this incident I understood that all things were possible.
This incident also reiterated to me that we must always be prepared for the worst, but we can always hope for and work for the best possible outcome in all situations, both on duty and in life. As I recall, the individual survived and was able to receive the medical and mental health treatment he needed because of our rapid response and Officer Shaw's quick medical actions. This reiterated to me the importance of the role of the first responding uniformed patrol officer. Although police officers have to be trained to take a life to save another, in this incident we were ultimately able to help save the very life of the individual who was in crisis and a serious threat.
What were the biggest lessons you have learned during your career in law enforcement?
Be humble. Someone else always has information, experience, and expertise that you can learn from. So, never think you know it all and be a lifelong learner. Be thankful and count your blessings because no matter how bad your day is going there are still a countless number of things to be thankful for and there are others who may be worse off than you. If you treat most individuals with genuine respect, empathy, and concern they will respond kindly, and some of the worst, most stressful calls can be de-escalated and resolved without force. Serve with pride and compassion because our community needs and deserves officers that care and want to do what is right all the time, whether folks are looking or not… and folks are always looking.
What are you looking forward to in retirement?
I am looking forward to relaxing more with family and traveling. I look forward to family gatherings, events, and outings. I also plan to recreate myself with a focus on my hobbies and those recreational things I like to do like hunting, fishing, knife-making, and reading. When I'm tired of doing those things, I may look to start a new career.