UT Police Officer Rodney Wells Awarded IAHSS Commendation of Distinction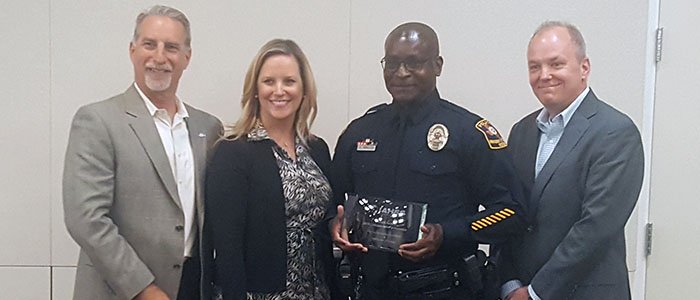 UT Police Officer Rodney Wells was selected as the recipient of the IAHSS Commendation of Distinction Award. The award is presented to individuals who, through individual action or initiative, saved a life or prevented a situation that had the imminent possibility of causing great harm or had other calamitous effects.
Wells was nominated for his life saving actions on June 19, 2018. Wells was at his off-shift security job with the Houston Astros patrolling parking lots owned and operated by the organization when he was flagged down for assistance in a medical emergency where a man appeared to be lying unconscious on the sidewalk. Wells administered CPR until paramedics arrived on scene. The man was semi-alert and breathing upon EMS arrival and was transported to the hospital for further observation. The Houston Astros Organization also recognized Wells for his quick actions that saved a person's life by presenting him an award before a hometown game and audience.