Accepting Nominations for UT Police at Houston Annual Promotions and Awards Ceremony
March 03, 2019
Carla Hulsey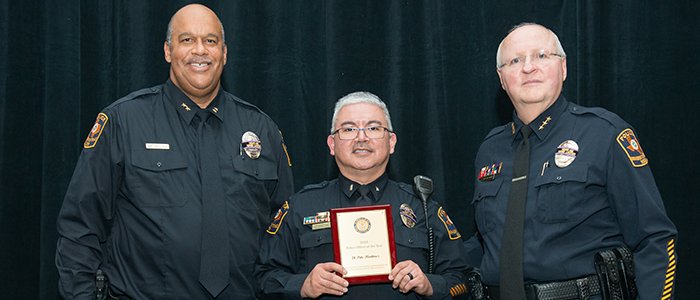 Accomplishments, bravery and excellence are recognized in honor of National Police Week at the annual Promotions and Awards Ceremony. This year the ceremony is on May 16, 2019. The department recognizes individuals who are awarded UT System Police Awards (ODOP Policy 411) and others who have notable recognitions from outside entities. The department also acknowledges teamwork contributions and higher education degrees earned, and awards civilian service awards.
Also announced at the ceremony are those named Civilian Employee of the Year, Public Safety Officer of the Year, Telecommunicator of the Year, Investigator of the Year, Officer of the Year and Rookie of the Year.
Employees and citizens of the community are encouraged to nominate individuals who have exhibited outstanding achievements, performance heroism or acts of service. An individual or group may be nominated through submitting a DP46 nomination form to utphoutreach@mdanderson.org. The deadline to submit nominations is April 1, 2019.
You may contact the Community Outreach team with any questions at (713) 563-7794 or email utphoutreach@mdanderson.org.