Officer Manuel Leston tapped to Facilitate Service Excellence Training
August 28, 2019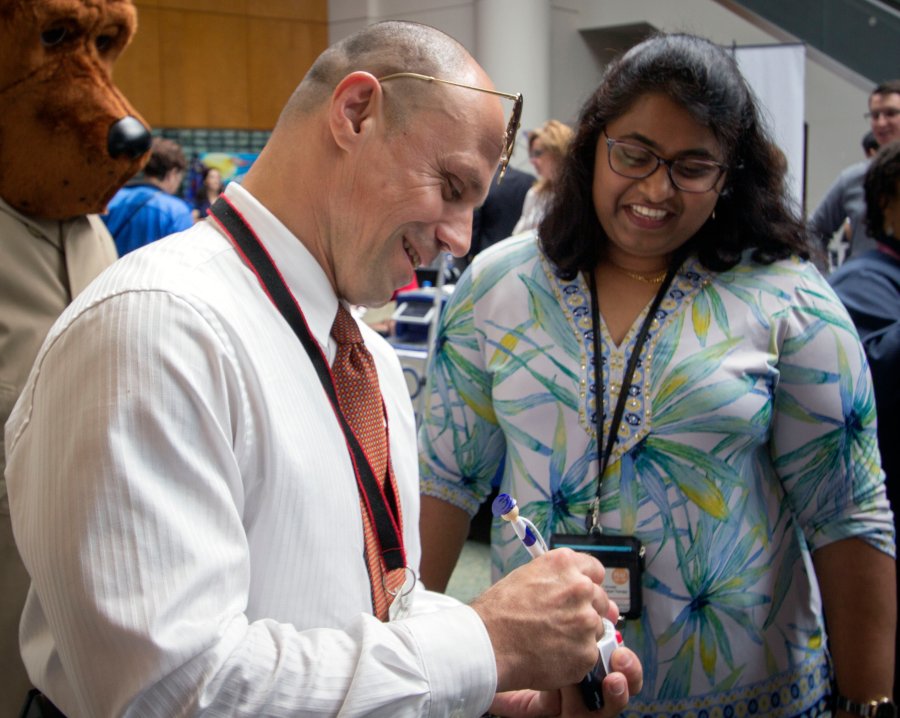 UT Police at Houston's Community Outreach Officer Manuel Leston was recently selected to become a facilitator for MD Anderson's Service Excellence Training program, the educational component of the institution's Patient Experience Operational Priority.
The training's comprises a Prerequisite Online Module that introduces the program, followed by three instructor-led classes. Module 1 is a role-based, interactive training that teaches employees and faculty how to improve their interactions with stakeholders using service standards and practical examples. Modules 2 and 3 cover communication skills, responding with empathy, empowerment and service recovery strategies.
Before becoming a facilitator, Leston completed the program as a learner.
Patient Experience Program Manager Monica Johnson first approached Leston in January 2019 after she attended one of Leston's Verbal Defense and Influence (VDI) classes.
As a VDI instructor, Leston teaches attendees how to defend and deflect words with proven strategies that can turn a heated conversation to their advantage while keeping tension to a minimum. At its core, VDI is about treating people with dignity and respect, and through practicing empathy in all interactions. As a facilitator for Module 2, Officer Leston will teach participants complementary skills to the concepts he has been teaching through VDI.
"As I was going through Module 2 I found there are a lot of similarities between it and VDI," said Leston. "Not only does the module teach about empathy, it also has a similar concept to VDI's Universal Greeting, which in the module is known as the three part greeting. I made that connection right away."
The Service Excellence training also covers empowerment, a concept that resonated with Leston.
"The story of the USS Benfold commander's realization that he needed to improve his leadership skills before he could improve his ship was enlightening," said Leston. "It drove home the idea that we are all empowered to meet and exceed expectations, to act and react with empathy to make a difference."
Leston joins a growing list of over 200 individuals who have completed the training and invited to become a facilitator or co-facilitator. Leston completed training on August 15 and is now able to begin teaching Module 2 of Service Excellence. Those interested in the program can register for the Service Excellence Prerequisite Online Module in the Education Center to get an introduction to the program. MD Anderson credentials are required to access the Education Center and Online Module.
What is Service Excellence?
MD Anderson's Service Excellence is designed to empower employees to deliver safe, courteous, accountable, efficient and innovative care. Service Excellence Standards, in order of priority are:
Safety: Provide an environment of well-being for patients, their families and our other stakeholders.
Courtesy: Create a positive, compassionate, individual experience through communication and teamwork by addressing the needs, wants, stereotypes and emotions of each person.
Accountability: Apply expertise and commit to the highest level of service and accept responsibility for the result.
Efficiency: Deliver seamless operation of systems and processes, in a timely manner.
Innovation: Advance knowledge and patient care in a solution-oriented environment that is conducive to learning and encourages acceptance of new research, techniques and technologies.