Honoring Achievements, Recognizing Promotions, and Embracing New Beginnings
May 26, 2023
Victoria Vazquez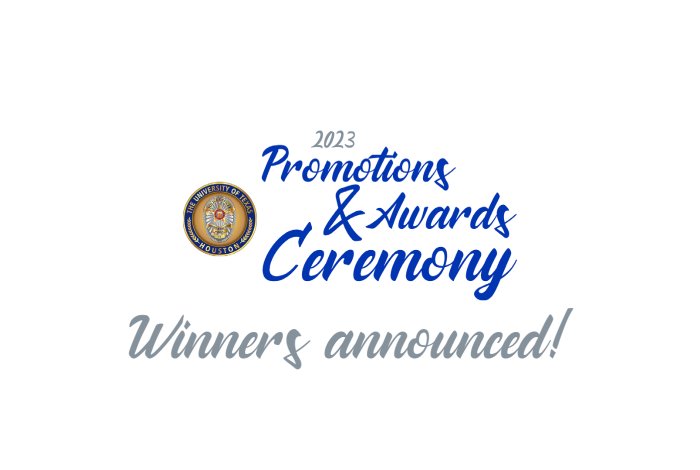 The 11th Annual Promotions and Awards Ceremony – one of UT Police's most highly anticipated events – returned to an in-person setting during National Police Week in May.
For the last three years, the event had been offered as a video or Zoom event due to pandemic safety procedures. Like the 10 yearly programs that came before, this year's event recognized a range of achievements as well as staff members' promotions.
"It means more than we could ever tell you, to come celebrate each other, the UT Police family, and our UT family. It's great to have everyone here." said UT Police Chief William Adcox.
Where possible for an active 24-7 policy agency, staff members were in attendance. Friends, family, and the MD Anderson and UTHealth Houston community were invited to view the event virtually and to send notes of congratulations through Zoom chat.
The keynote speaker was Dean Diane Santa Maria of the UTHealth Houston Cizik School of Nursing who delivered words of wisdom and insight into the world of health care leadership, offering a renewed sense of purpose and motivation.
The ceremony showcased the importance of collaboration and partnership by providing Civilian Service Awards to five civilians who provided notable support to the division. Their efforts were acknowledged, emphasizing the value of cooperation in achieving shared goals. Those recognized were MD Anderson's Director of Campus Services Diane Confer, Chief Patient Safety Officer Dr. Carmen Gonzales, Executive Director Altrivice Revis, IT Project Manager Mike Sanderson, and UTHealth Houston's Associate Vice President of Environmental Health and Safety, Dr. Scott Patlovich.
Promotions within the division were celebrated as over 25 staff members received awards from the Office of the Director of Police, including Assistant Chief Vicki King who received the Distinguished Command award. King has announced her retirement effective in June.
UT Police System Award Recipients
UT Police "Of the Year" recipients were also recognized in six categories and a new divisional Leadership Award was introduced.
Longtime employee Captain Doran Preacher was presented with another new award: The UT Police Distinguished Service Award given for his dedication to providing exceptional safety services and leadership. Fellow longtime employee, Director Roberto Ramos, surprised the audience by announcing his upcoming retirement after 38 years with UT Police.
The ceremony captures notable events and contributions made throughout the year, and it also embraces new beginnings. This year's ceremony was particularly special, as it introduced two new categories of recognition and bid farewell to two respected leaders, Director Ramos, and Assistant Chief King.
In addition to National Police Week, the ceremony also fell during Employee Appreciation Month. Presenting the flag at the beginning of the ceremony was the Pearland High School JROTC, whose members included Sergeant Jason Kingston's daughter Fiona. The MD Anderson Choir sang the National Anthem.