UT Police to Offer Community R.A.D. Program Beginning in 2020
October 02, 2019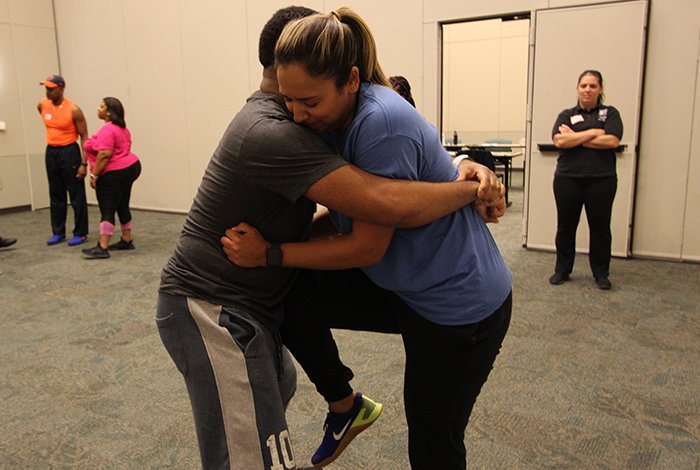 The University of Texas Police at Houston (UT Police) has revamped its Rape Aggression Defense (R.A.D.) program and will recommence offering the free classes beginning in 2020 to women who wish to learn the empowering skill.
Ten members of the UT Police staff, including officers, civilian staff, and public safety officers, were certified in August to instruct R.A.D. courses. The group was dually trained to offer basic classroom instruction as well as simulation training where instructors don R.A.D. aggressor gear and students wear protective pads and helmets to practice attack scenarios.
National R.A.D. Systems Instructor Casey Wood traveled from R.A.D. headquarters in Louisiana to prepare the UT Police staff for the task ahead. That task, she explained, is one that's near and dear to her heart.
"I took the class with my mom and grandmother before going off to college because they wanted me to feel safe," said Wood. "I remembered how empowered I felt learning to defend myself and this job allows me to give that same feeling to others."
Wood said she most enjoys being an instructor because of the ripple effect that happens when she trains a group of trainers to teach R.A.D. classes like the week-long course she did for UT Police.
"By training a group of 10 trainers I'm able to reach more people than I can count," she said. "Each of those people can teach more and more women for years to come."
During the instructor course, which took place in August 2019, UT Police staff completed a classroom component focused on awareness, prevention, risk reduction and avoidance, followed by a hands-on component that taught R.A.D. approved techniques to physically ward off an attacker.
UT Police Training Sergeant Isaac Graham coordinated the selection of staff members who received the training. His goal was to ensure that the group included a mix of both male and female instructors.
"Our R.A.D. program is a female self-defense class that focuses on rape and sexual assault against women by primarily male perpetrators although anyone can commit an assault," said Graham. "It was important to include female instructors who can relate to and mentor the female students' thought processes and male instructors who can offer realistic physical training."
UT Police is in the process of devising a class schedule that suits both the community and the department. Classes are set to begin in January 2020.