UT Police Graduates 19 from January R.A.D. Program
February 06, 2020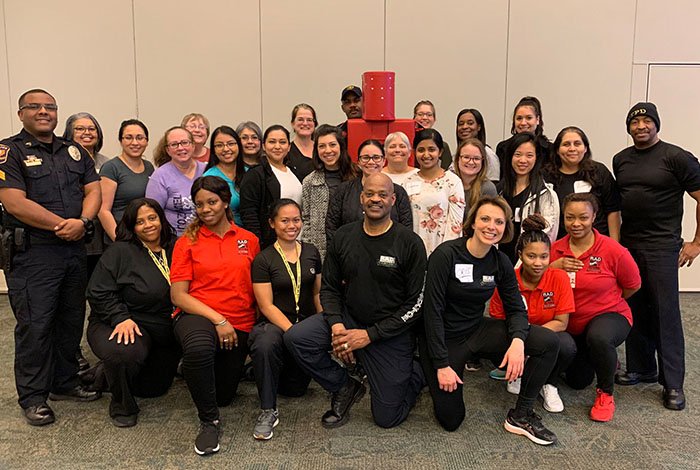 For the first time in two years – and back by popular demand — UT Police offered two concurrent sessions of Rape Aggression Defense (R.A.D.) training for members of the MD Anderson Cancer Center and UTHealth community. In all, 19 women received their certification as R.A.D. graduates.
The group of women began their training on Monday, Jan. 27, and by Friday, Jan. 31, they were graduating from the program with a new skillset that could help them skillfully defend themselves against an attacker if ever confronted.
"We are so proud of these women for taking this step toward protecting themselves in the unfortunate event of an attack," said Sgt. Erica Murphy, who oversaw the four-day R.A.D. training. "They showed up every day, asked questions and practiced the physical tactics with seriousness. By the end of the week, they had a whole new confidence that they didn't have when they showed up on day one."
Participants attended four class dates for a total of 12 hours of instruction focusing on awareness, prevention, risk reduction and risk avoidance while conducting basic hands-on defense training.
To prepare to offer the program, 10 UT Police staff members received training from National R.A.D. Systems as instructors and aggressors.
"We are thrilled to recommence offering this potentially life-saving skill to our community," said UT Police Training Sgt. Isaac Graham. "We hope to offer this program several times each year."
If you would like to be notified when the next R.A.D class is scheduled, please sign up for alerts here.