Badges, Badge Readers and Broken Devices: Problem-Solving Resources
August 25, 2023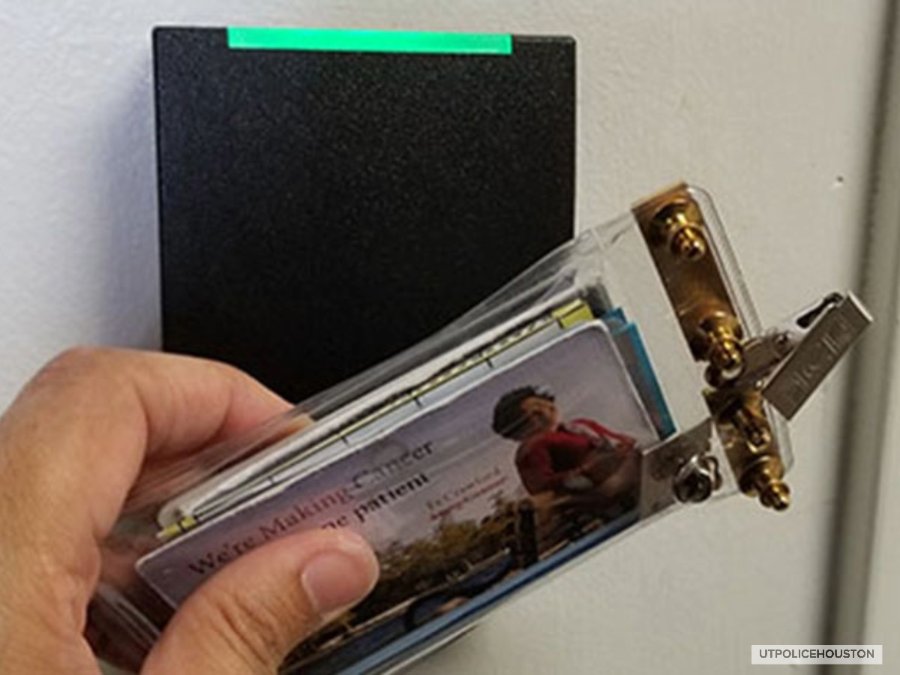 Flash your badge at a badge reader and - if you are authorized to that space - it will unlock for your convenience and use. These devices are a major safety precaution. The mechanisms of this process are managed together by the Badge Access and Technical Services teams.
Two pivotal service groups – the Badge Access team and the Technical Services team – collaborate to uphold security and efficiency. The Badge Access team facilitates access and clearance authorizations, while the Technical Services team ensures the functionality of physical electronic security systems and devices.
"Reaching out to the appropriate team based on your needs can ensure both prompt assistance in these security and access-related matters," said Police Administrative & Support Services Director Brandon Simmons.
The Badge Access team focuses on providing electronic access to institutional spaces. They collaborate with workforce leaders to set up clearances, ensuring proper groups have access to the appropriate areas using their ID badges.
"The team works with clearance approvers to ensure that the thousands upon thousands of access requests we receive each year are processed in a timely manner," Simmons said. "If you're unable to access a particular room you need to access for your job duties, the Badge Access team is your point of contact."
Additionally, the Badge Access team can facilitate access to specific areas on campus, including bike rooms, working mother's rooms, and workout facilities after approval is granted by space owners.
The Technical Services team addresses break/fix issues with electronic components such as badge readers, door motion sensors, blue phones, panic buttons, and security cameras. The team responds to electronic security systems glitches, malfunctions, or failures. Moreover, the Technical Services team repairs security cameras and ensures surveillance systems remain operational and deliver clear visuals.
"Whether you're grappling with access questions or facing a technical issue, our team is equipped to provide swift resolution for your needs," Brandon said.
Resources:
Badge Access Team
The badge access team can be reached from 7 a.m. to 4 p.m., Monday to Friday. For after-hours assistance, contact 713-792-2890.
MD Anderson employees
Email: BadgeAccess@mdanderson.org
Phone: 713-79-BADGE, or x22343
UTHealth Houston employees
Email: BadgeAccess@uth.tmc.edu
Phone: 713-500-UTID/ (8843)
When submitting a request, be sure to provide
employee ID or badge number (

located

on the back of the badge)

appropriate clearance name(s) to be added to the badge (not door names)
Access modification requests then undergo a routing process to area approvers of record before being processed by UT Police. This approach may account for any delays in fulfilling the request.
Technical Services Team
For routine hardware repair requests, the Technical Services team can be reached from 7 a.m. to 4 p.m., Monday to Friday. For after-hours emergency repairs, contact 713-792-2890.
Email: UTPHTechServ@mdanderson.org
Phone: 713-792-8690
Emergency repair requests during operating hours should be reached by phone.
Ensure all hardware repair requests include the following:
The location of problem (building and room number; card readers are labeled accordingly)

Your phone number

The type of hardware affected (electronic door locks, panic buttons, door release buttons, intercoms, emergency phones, or security cameras)