ID Badge Access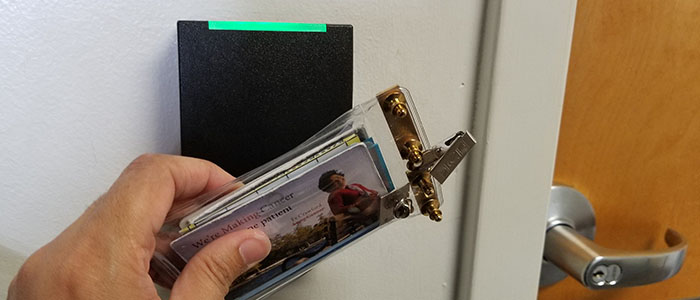 Do you have a new employee who needs badge access to your work area? Do you need access to a certain building or room on campus?
Submit the following information to UT Police's Security Risk Operations team. MD Anderson employees may call (713) 79-BADGE, or x22343 or send an email to badgeaccess@mdanderson.org. UTHealth Houston employees may call (713) 500-UTID/(8843), or send an email to badgeaccess@uth.tmc.edu.
Your name
Employee ID number
ID badge number (located on the back of your badge)
Room number to the area you need to access
All requests have to be reviewed by the Departmental Access Approval Authority for the area where access is requested, according to the MD Anderson Identification Badge Policy (ADM0282) (credentials required) and UTHealth Houston HOOP Policy 148 Identification Badges.
For urgent matters after-hours, contact the UT Police Risk Operations Center at (713) 792-2890 for assistance.
Campus safety
Your employee ID badge is proof that you belong at MD Anderson and UTHealth Houston, and you're required to wear it at all times while on campus.
When using your ID badge to enter a secured area, always be aware of tailgaters trying to slip in behind you. When someone is close enough to take advantage of a door opened with your ID badge, try to locate the person's ID badge.
When you encounter strangers without ID badges in restricted areas, offer your assistance. Help them find their destinations or direct them to building entrances where public safety officers are stationed.
If someone's responses or demeanor seems suspicious, call UT Police at 713-792-2890. Always call 911 if you're in immediate danger.