Weathering the Storm Class Teaches How to Prepare for Natural Disasters
May 24, 2021
Carla Hulsey Pate
In time for the start of hurricane season, The University of Texas Police at Houston (UT Police) unveiled a new safety class that teaches attendees what to do to prepare for a weather emergency.
Weathering the Storm: Resilience in Unfavorable Weather Conditions, provides an overview on preparing for a natural disaster.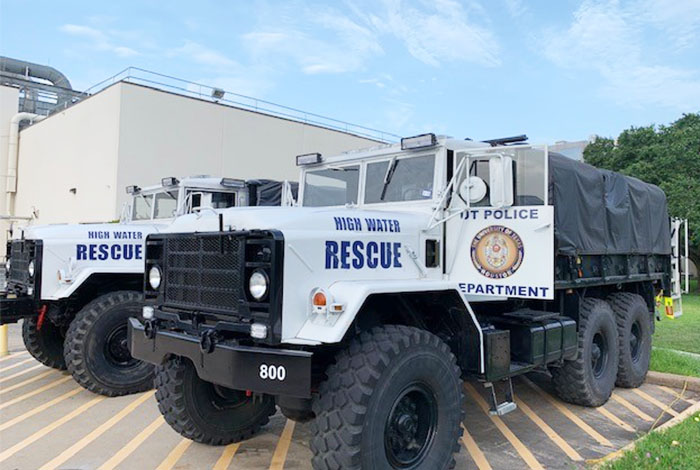 Chief of Police William Adcox believes the new class benefits community members as hurricanes, major flooding events and winter storms have impacted the Houston area in recent months.
"This class has been a long time coming," said Adcox. "It's imperative that our community know what to do and how to prepare in the event of a natural disaster."
Since the winter storm, Officer Manuel Leston, who instructs the class, has been brainstorming how to best educate community members on how to prepare for an emergency. In the new class, Leston has divided the presentation into three sections: What to do before, during and after a disaster.
Leston said people should, and need, to have a discussion with their loved ones about disaster preparedness. He said people should, "start preparing now and have a plan in the event of a weather emergency, like a hurricane or flooding, and winter storms."
Leston said attendees better understood how UT Police responds in an emergency and its emergency capabilities.
"Most people don't know that our emergency response capabilities have grown substantially following Hurricane Harvey," said Leston. "We have expanded our capabilities to emergency response, like with two high water evacuation vehicles, which are manned with a Water Strike Team, specially trained to respond to high-water emergencies."
The class will be offered periodically throughout the year, but especially before the start of hurricane season and winter season.
Read More:
High Water Evacuation Vehicles At The Ready
Imelda Calls for First Use of UT Police High Water Vehicle
New Water Strike Team Set to Energize UT Police Flood Response Efforts
UT Police Train for High Water Operations