Safety and Threat Publications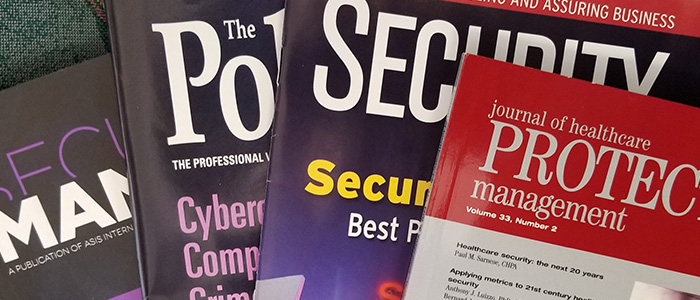 Andrew Dasher, PhD, Threat and Risk Analyst, University of Texas Police at Houston, 03/18/2020
Automated license plate readers (ALPR) are being utilized across the world in a variety of ways and for myriad purposes. Law enforcement has primarily used these devices as a way to facilitate traffic enforcement, such as looking for expired plates, or to help identify vehicles where the vehicle itself is associated with the crime, such as an auto theft, or to find a wanted person.
---
Ray Gerwitz, MBA, CHPA, CPP, Executive Director and Deputy Chief Security Officer, UT Police at Houston, 03/01/2020
Security leaders would do themselves a favor by adapting a few business tools for strategic planning and assessment of success. In particular, three visualization tools—strategic mapping, storyboarding, and data visualization—can help to optimize performance, control costs, enhance team members' enthusiasm, and increase upper management's trust in the department.
---
Dr. Charles Denham II, Dr. Gregory Botz, Charles Denham III and William Adcox, 11/11/2019
An emerging threat to many organizations is "failure to rescue" children and adults experiencing sudden cardiac arrest or harm due to major trauma, such as active shooter events. The standard of care for these medical emergencies is rapidly evolving, and leaders need to act now to keep up or pay the price of harm to their constituents and the growing liability exposures that often accompany these types of medical emergencies.
---
Dr. Gregory Botz Dr. Charles R. Denham II, Charles R. Denham III, and William Adcox, 05/31/2019
In the context of schools, universities, faith-based organizations and companies with large campuses, a rapid response team is a small group that can be mobilized rapidly to provide acute care for anyone in a health emergency. Their speed, proximity to the victim and practiced skills are the magic. The aim is to prevent "failure to rescue" when every minute counts.
---
Dr. Charles Denham II, Dr. Gregory Botz, and William Adcox, 02/07/2019
Active Shooter events in healthcare institutions pose an entirely different reality than other organizations. This feature article in the January/February 2019 issue of Campus Safety Magazine addresses the concept of "Secure, Preserve, Fight" when "Run, Hide, Fight" is not possible. Click here to watch a video overview.
---