Careers
Visit with us at this upcoming event:
4th Annual Lakewood Church Job Connection
Saturday, October 13, 2018 from 9:00 AM to 1:00 PM CDT
Lakewood Church
3700 Southwest Freeway
2nd Floor
Houston, TX 77027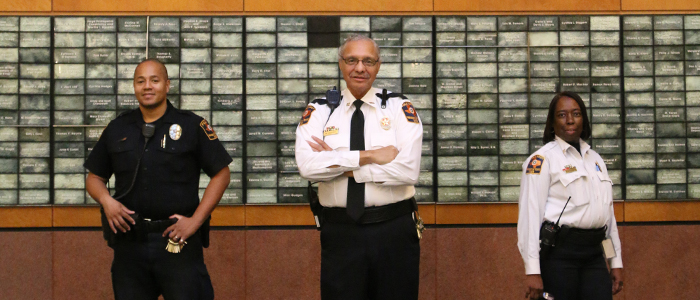 Open Positions
(as of 10/02/2018)
How To Apply
To apply for MD Anderson positions, visit MD Anderson Careers and search for keyword "police". To apply for UTHealth positions, visit UTHealth Careers and select "trade/skill".*
The department offers competitive pay and excellent benefits. The starting pay for all positions is on a sliding scale commensurate with experience. UT Police offers tuition reimbursement through a cohort (up to $5,250 a year). Excellent benefits are provided to UT Police employees, including paid health insurance, paid time off, paid holidays and the opportunity to earn up to 24 additional hours of time off based on performance.
For further information or questions, contact Talent Management at 713-792-0900 or utp-hrecruiting@mdanderson.org.
*UT Police employees are hired either by MD Anderson or UTHealth, and the positions are therefore posted on either institution's careers website. Benefits may vary. All UT Police employees serve both institutions.
Resources
Applicant Interview (DOC)
Map to Headquarters
MD Anderson
UTHealth
TRS: Teacher Retirement System of Texas