The Bike Patrol Program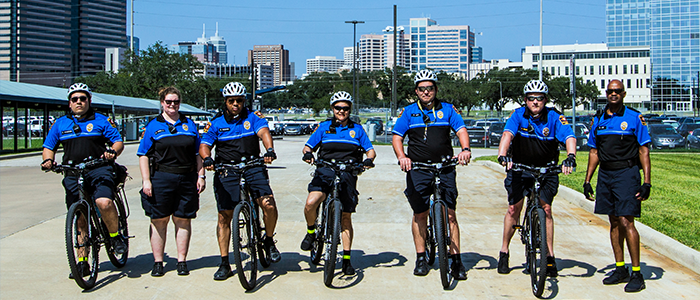 The Public Safety Officer Bike Patrol Program, launched in October 2017, patrols MD Anderson and UTHealth Houston grounds in the Texas Medical Center.
The Bike Patrol Program aims to enhance our department's health and safety initiatives as outlined in our Combined Protection Model and serves as an added security presence during peak traffic hours. Their high visibility aims to deter crime in the area and promote greater interaction with the community. Bike Patrol staff engages in community outreach efforts and promotes UT Police.
The team also increases the department's coverage in areas where access by patrol vehicles is limited. Parks, alleys, parking lots and garages are just a few areas where bike patrols more easily maneuver.
MD Anderson areas of focus include the Main Building, Mid Campus, South Campus and the Zayed bin Sultan al Nahyan Building for Personalized Cancer Care. UTHealth Houston areas of focus include UTHealth Housing and large gathering areas adjacent to the UTHealth schools.
All Public Safety Officers in the program have been certified by the International Police Mountain Bike Association, a premier organization for public safety cyclists.