Bicycle and Pedestrian Safety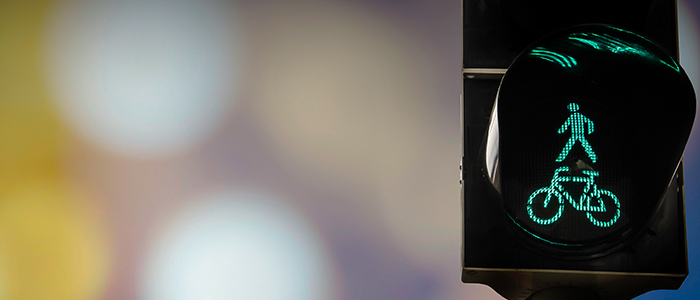 Bike Safe, Walk Safe
This course provides faculty, staff and students with an overview of state and local laws regarding bicycling and walking. The course is designed to highlight situations that the user will encounter in the Texas Medical Center (TMC), as well as pertinent information for bicycle commuters to the TMC. With safety as our number one priority, this course is designed for everyone regardless of how you commute around the TMC. You're guaranteed to learn something in this short informative class. Class sessions may be from 10 to 30 minutes.
Course Objectives
Upon completion of this course attendees will be able to:
Know what laws are applicable to pedestrians and bicyclists
Discuss some of the top hazards cyclist need to be alert for
Learn proper locking techniques for your bike
Learn about resources and advocacy groups in the Houston area
Watch Bicycle and Pedestrian Safety Video Playlist
Playlist Video 1: National Highway Traffic Safety Administration - Bike Riding Safety
Playlist Video 2: Rice University - Bike Safety at Rice University
Institutional Resources
Complete the form linked above to request access to the MD Anderson bike centers. UTHealth Medical School occupants have automatic access to the Medical School bike storage facility.
Houston BCycle – Discounts available for MD Anderson and UTHealth students and employees
Safety Resources
Bicycle Safety– Resources from the Texas Department of Transportation
National Highway Traffic Safety Administration -Bicycle safety portal
TXDOT and METRO pedestrian safety tips
Houston Safe Passing Ordinance
Ideal Bicycle Locking Technique
Ideal Bicycle Locks
Commuting Resources
Google Maps – use the bicycle route planning feature
Bike Houston – non-profit advocacy group offering maps and other resources
METRO – tips for bringing your bike on the METRO
League of American Bicyclists – Bike security, commuting tips and guidance
Health benefits of cycling
UT Police Bike Safety Flyer

Additional Resources