History
Our History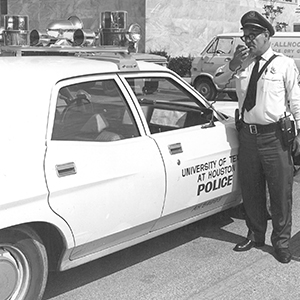 The University of Texas Police at Houston (UT Police) was established on December 8, 1967. It is the largest of fourteen component police departments that constitute UT System Police.
Prior to 1967, each of the UT System components utilized security personnel on campus. During this same period, student unrest with political issues begin to increase at all universities. In August of 1966, Charles Whitman, a student at UT Austin, gained access to the top of the UT Austin Main Building Tower with a number of high powered weapons. Whitman shot and killed 17 people and wounded 35 others. During this incident, the need for professional university police protection with emergency response capabilities became very clear.
In 1967, the Texas Legislature passed Senate Bill 162 which authorized university campuses in Texas to hire and commission police officer personnel. The UT System Board of Regents went a step further and implemented the UT System Police to oversee the hiring, training and certification of police officer personnel at each of the UT System components. In 1968, the first UT System Police Academy was held to begin police officer staffing for 7 UT component Police Departments.
The UT System Police now consists of 15 component Police Departments throughout Texas offering police patrols, criminal investigations, emergency response capabilities, crime prevention programs, monitoring university security systems and a wealth of other community related services to ensure a safer environment.
Our Milestones
| | |
| --- | --- |
| 1941 | MD Anderson is founded. |
| 1967 | UT System Police founded. |
| 1968 | C.E. Patton, first UTP-H police chief |
| 1971 | Ellis Means, second UTP-H police chief |
| 1972 | UTHealth is founded. |
| 1974 | UTP-H gets its second police car! |
| 1977 | Charles Price, third UTP-H police chief |
| 1981 | UTP-H moves into new headquarters building on Knight Road. The former location for the department was on the 17th floor of what is now known as 'The Prairie.' |
| 1994 | UTP-H became first accredited police department of the UT System Police. |
| 2004 | William Adcox, fourth UTP-H police chief |
| 2014 | First multiyear strategic plan published |
| 2015 | UTP-H Threat Management Unit created |
| 2015 | UTP-H is awarded the IAHSSF Lindberg Bell Award for outstanding healthcare security. |
| 2015 | The first Strategy Map is published, focusing on strategic initiatives to enhance organizational tools and skillsets. |
| 2016 | UTP-H adds CPI Non-Violent Crisis Intervention training to our extensive list of preparedness- and prevention-oriented training classes. |
| 2017 | The second Strategy Map is published as a fully interactive PDF focusing on partnerships and strategic initiatives. |
| 2018 | UTP-H continues to develop a Threat Science philosophy of risk and harm reduction in the hospital/workplace. |
| 2021 | UTP-H pledges to increase representation of women by joining 30x30 Initiative |
| 2022 | Workplace violence prevention program placed under the stewardship of UTP-H. |