The Honor Guard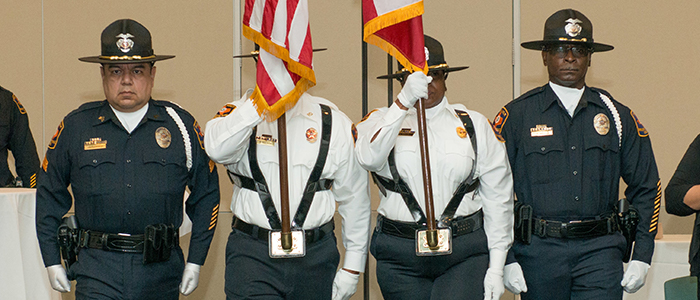 Mission
The University of Texas Police at Houston Honor Guard is comprised of commissioned officers and public safety officers (PSOs) of all ranks. The UT Police Honor Guard represents the department at funerals of fallen officers, memorial activities, academy graduation ceremonies, institution events, and any other special law enforcement honor ceremonies as approved by the Chief of Police.
Function
The UT Police Honor Guard is a self-sufficient unit that trains together as a flexible and disciplined unit. The UT Police Honor Guard personifies professional decorum, respect, and strives toward perfection in presentation and display of the National Colors and the State of Texas flag.
History and Duties
The UT Police Honor Guard was established in 2016 and consists of the National Colors Team (NCT). The NCT is used to post, present or display, according to protocol, the national and state flags at a multitude of ceremonies, meetings and events.
Uniform
The UT Police Honor Guard's uniform is similar to the department's police and PSO uniforms. Officers wear the traditional shirt and trousers for uniformed officers and PSOs. However, the unit wears highly polished, patent leather Sam Browne belts, holsters and shoes to provide a professional, ceremonial appearance. Team members wear a campaign hat complete with UT Police badge, a white ascot, and a white braided shoulder cord over their left shoulder. In times of mourning, officers wear a black band over their badge in remembrance of fallen officers.
Recent Events
July 6, 2018 - UTMB Police Promotion and Recognition Ceremony. Posting of the colors was jointly conducted by UT Police at Houston and UTMB Police Honor Guards.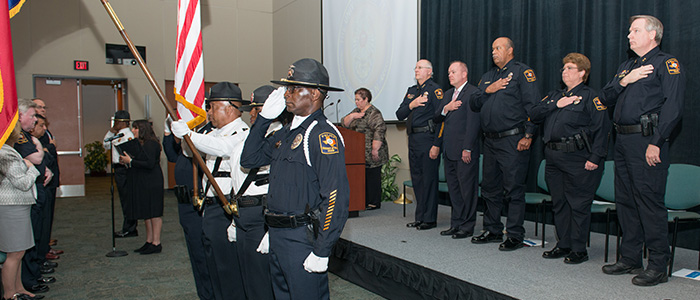 May 17, 2018 - UT Police at Houston, Promotions and Awards Ceremony.