Emergency Preparedness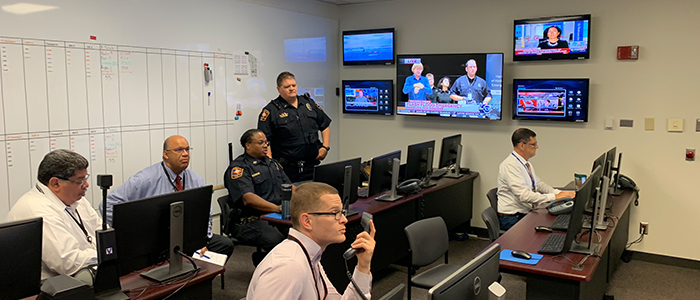 Emergency preparedness and response is at the forefront of the The University of Texas Police at Houston mission to safeguard the community and consider it a shared responsibility. UT Police supports the MD Anderson Cancer Center and The University of Texas Health Science Center at Houston in the event of an emergency and is prepared to anticipate the needs of the community with trained police officers, public safety officers and civilian staff.
High Water Evacuation Vehicle
Two High Water Evacuation Vehicles (HWEVs) – nicknamed Laverne and Shirley – aid in the event of a weather emergency. The UT Police Water Strike Team, a special team knowledgeable in high water driving and evacuation practices, is responsible for evacuations during an emergency.
The UT Police Water Strike Team is trained and capable to aide those in need when flood waters become a threat to the Texas Medical Center. This special team is responsible for manning the department's two High Water Evacuation Vehicles during weather emergencies.
Severe Weather Resources
For a complete list of resources to aid during severe weather, visit the Severe Weather Resources page on our website.
The Special Operations Center or the SOC is comprised of UT Police team members from all different units. The SOC is responsible for maintaining a global view of emergencies to try and anticipate needs or developments 12-24 hours out.