Rape Aggression Defense (R.A.D.)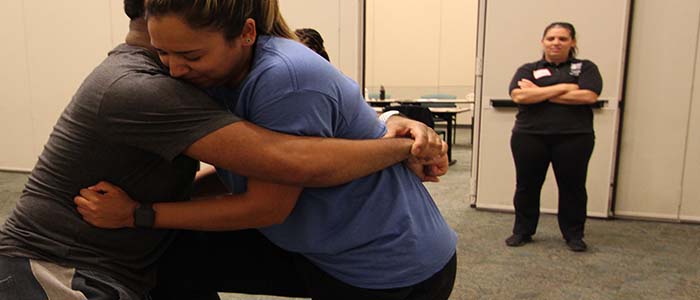 Rape Aggression Defense training has been postponed until further notice due to COVID-19. Subscribe to our monthly newsletter to receive updates about upcoming classes.
About R.A.D. Training
The Rape Aggression Defense® (R.A.D.) Program offered by The University of Texas Police at Houston aims to develop and enhance self-defense options for women. The program provides a holistic approach to self-defense and education with educational components comprised of lecture, discussion and physical resistive strategies. The program is facilitated by UT Police certified R.A.D. Instructors.
The program primarily focuses on providing self-defense skills and education to female MD Anderson and UTHealth students, faculty and staff.
The course consists of four, 3-hour classes that focus on awareness, prevention, risk reduction and risk avoidance while conducting basic hands-on defense training. In order to successfully complete the course, participants are required to attend all four classes.
Participants require no prior experience. The program provides a progressive building block format that enables participants to learn the skills they want and need to learn — from how to be aware of where they are and who's around them, to what to do if they're attacked from behind, to using proper form.
Program participants experience exercises with R.A.D. Instructors equipped with R.A.D.'s Aggressor Simulation Training Suit®.
For more information about the R.A.D. Program, please contact the UT Police Community Outreach team at utphoutreach@mdanderson.org or 713-563-7794.
To be informed of future class announcements, complete the interest form below.