Threat Management Team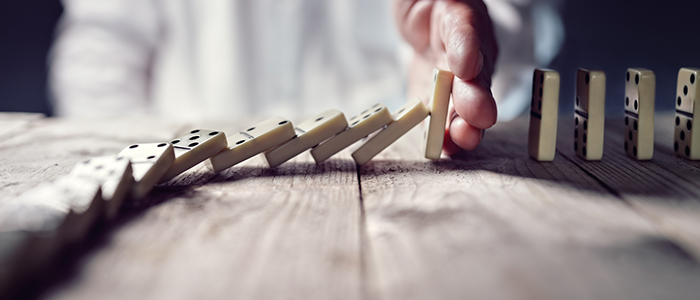 "Trusting your instincts by identifying and reporting threats are key in achieving safety for the institution."
Mission
Our mission is to identify potential threats, determine the seriousness of those threats, and develop effective intervention plans that protect potential victims and address underlying problems that stimulated the original threatening behavior.
About
UT Police at Houston's Threat Management Team assists in the safety, health and welfare of our institutions by identifying and addressing threats to the safety and well-being of an individual, or their risk to others or the institution. Through a proactive, collaborative and thoughtful approach to behaviors of concern, the Threat Management Team aims to halt any disruptions that may affect our community or our activities through prevention, identification, assessment, intervention and management of incidents that may pose a threat.
The Threat Management Team consists of law enforcement professionals with extensive investigative experience who collaborate with local, state, and federal law enforcement agencies to intervene before situations escalate to harmful or dangerous levels. The Threat Management Team assists with all aspects of domestic violence situations. We arrange for the protection of an individual and coordinate associated services as needed.
Join our mission to eliminate threats and ensure the safety of our institutions.
Contact the Threat Management Team
---
Identifying a threat lies in knowing the warning signs.
Stalking. Following, sending unwanted gifts, repeatedly calling, monitoring activity, using technology to track, damaging property, making threats, engaging in actions meant to control.
Harassment. Using excessive electronic communications by phone or email in a manner reasonably likely to harass, alarm, abuse or torment. A work environment that a reasonable person would consider intimidating, hostile or abusive.
Sexual Harassment. Offensive, unwanted and unwelcomed sexual behaviors. Repeated or singular acts that cause the victim to feel uncomfortable and unsafe.
Terroristic threat. A crime involving a threat to commit violence communicated with the intent to terrorize another, to cause evacuation of a building, or cause serious public inconvenience.
We encourage you to report suspicious people or incidents. See something. Say something. Always be vigilant of your surroundings and use your instincts to report suspicious or disruptive behaviors.
Campus Resources
In an emergency, immediately dial 9-1-1.
MD Anderson Members
The following MD Anderson resources provide confidential services:
UTHealth Houston Members
The following UTHealth Houston resources provide confidential services:
Employee Assistance Program (EAP)
(eligible employees, trainees, students and faculty)
713-404-3092
Student Health Services and Student Counseling
713-500-5171
The Ombuds Office
713-792-4896
ombuds@mdanderson.org
Office of Academic Ombudsman
713-500-3457


Employee Assistance Program (EAP)
(eligible employees only)
713-500-3327

Faculty Assistance Program
713-500-3380
Local and National Resources
Institutional Resources

The University of Texas Police at Houston
911 (emergency)
713-792-2890 (non-emergency)
www.utph.org
MD Anderson Employee Assistance Program
Free confidential counseling services and referrals.
713-745-6901
UTHealth Student Health Services and Student Counseling
Free confidential counseling services and referrals.
713-500-5171
www.uth.edu/studenthealth
UTHealth Employee Assistance Program
(eligible employees only)
Free confidential counseling services and referrals.
713-500-3327 (24-hour)
https://inside.uth.edu/eap/employee-assistance/
UTHealth Faculty Assistance Program
Free confidential counseling services and referrals.
713-500-3380
https://inside.uth.edu/eap/faculty-assistance/
UTHealth After Hours Help
(non-emergency)
Free confidential counseling services
and referrals for non-life threatening emergencies.
713-500-5173
UTHealth 24-hour Emergency Crisis Hotline
Crisis line for student and someone needs help.
713-500-4688

Local Resources

Houston Police Department
911 (emergency)
713-884-3131 (non-emergency)
www.houstontx.gov/police
Houston Area Women's Center
Services for survivors of domestic and sexual violence and their non-offending family and friends. Services include 24-hour hotlines, counseling and urgent referrals to shelters.
713-528-6798 (office)
713-528-2121 (domestic violence hotline) 713-528-7273 (sexual assault hotline)
www.hawc.org
Crisis Intervention of Houston
Confidential and anonymous services for any crisis event. Services include 24-hour crisis hotlines.
832-416-1177 (hotline)
832-416-1199 (teen hotline)
281-201-4430 (text)
www.crisishotline.org
The Montrose Center
Provides services for LGBTQ survivors of domestic violence, sexual assault, hate crimes, trafficking, etc.
713-529-0037 (main)
713-529-3211 (24 hour helpline)
www.montrosecenter.org/
Fort Bend County Women's Center
Services for survivors of domestic violence and sexual assault.
281-344-5750 (office)
281-342-4347 (crisis hotline)
www.fbwc.org
Women's Center of Brazoria County
Services for victims of domestic and sexual violence.
281-585-0904 (office)
800-243-5788 (crisis hotline)
www.womenscenterbc.com
Montgomery County Women's Center
Services for victims of domestic and sexual violence as well as stalking.
936-441-4044 (office)
936-441-7273 (crisis hotline)
mcwctx.org
Resource and Crisis Center of Galveston County
Services for victims of domestic and sexual violence.
409-763-1441 (office)
888-919-7233 (crisis hotline)
www.rccgc.org
Bridge over Troubled Waters (Pasadena)
Services for survivors of domestic violence and sexual assault.
713-472-0753 (office)
713-473-2801 (crisis hotline)
www.thebridgeovertroubledwaters.org
Bay Area Turning Point
Services for survivors of domestic violence and sexual assault.
(Counties primarily served: Harris, Chambers, Brazoria and Galveston)
281-338-7600 (office)
281-286-2525 (crisis hotline)
www.bayareaturningpoint.org

State Resources

The Attorney General of Texas
(Stalking, Sexual Assault and Domestic Violence)
www.texasattorneygeneral.gov/cvs/crime-victim-services-assisting-victims-of-violent-crime

National Resources

National Therapy Directory
(in order to find a counselor near you)
www.psychologytoday.com/us/therapists
National Suicide Prevention Lifeline
800-273-8255 (TALK)
www.suicidepreventionlifeline.org
National Domestic Violence Hotline
800-799-7233 (English and Spanish)
www.thehotline.org
National Sexual Violence Resource Center
877-739-3895
www.nsvrc.org
Rape Abuse and Incest National Network (RAINN)
800-656-4673
www.rainn.org
National Online Resource Center on Violence Against Women
www.vawnet.org
Stalking Resource Center
202-467-8700
www.victimsofcrime.org/our-programs/stalking-resource-center
Veterans Crisis Hotline
800-273-8255
www.veteranscrisisline.net
LGBT National Hotline
888-843-4564
Trans Lifeline
24 hour hotline staffed by transgender people for transgender people in a crisis
877-565-8860
Crisis Text Line
Free 24/7 support via text for individuals in crisis
Text "Start" to 741-741
U.S. Department of State
202-647-4000 (main switchboard)
800-877-8339 (TTY, Federal Relay Service) 202-663-1255 (visa information)
www.state.gov/m/ds
U.S. Department of Homeland Security
202-282-8000 (operator)
800-375-5283 (U.S. Citizen and Immigration Services)
www.dhs.gov or
www.state.gov/m/ds (USCIS)
Helpful Links
Domestic Violence Awareness Handbook
Harris County District Attorney's Office - Family Criminal Law Division
Houston Police Department - Family Violence Unit
Texas Council on Family Violence
Violence Against Women Reauthorization Act of 2013 (VAWA 2013)
Printable Material
Harris County District Attorney's Office - Family Criminal Law Division